Why You Should Consider Arthroscopy in India?

Why You Should Consider Arthroscopy in India?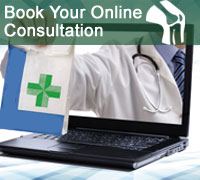 Planning your medical trip to India is a very simple process with Joint Replacement Surgery Hospital India
You just need to fill in our enquiry form and one of our executives will contact you soon.
+91-9860432255  Call us at the given contact number for any assistance.
Complete information regarding surgery is provided on our website.
Click to Here Fill up our Enquiry Form
What is Arthroscopy?
Arthroscopy in India is a surgical procedure, where orthopedic surgeons visualize, diagnose and treat problems inside a joint. In an arthroscopic examination, the surgeon makes a small incision in the skin of the patient and then inserts pencil sized instruments which contain a small lens along with a lightning system to magnify and illuminate the structures inside the joint.
The television camera attached to the arthroscope displays the image on the giant screen, allowing the surgeon to look further. The surgeon can determine the amount or the type of injury and then correct or repair the problem if it is necessary.
Benefits of Arthroscopy in India
The benefits of arthroscopy in India includes best price hospital for arthroscopy in Inida, Internationally accredited surgeons, Affordable Arthroscopy at Best Joint Replacement Hospital India, almost zero patient wait list, state of the art equipments and the latest technology.
How do I know if I am a good candidate for Arthroscopy Procedure?
This surgery has received a lot of public attention as it is used for treating well known athletes. It is an extreme valuable tool for the orthopedic patients and works out to be a blessing for patients who have had an open surgery. This surgery is conducted as an outpatient surgery and the indications are when the pain in the joint becomes unbearable, then surgery is the only option which is left.
Check out the Patient Testimonial, where the patient shares about their success stories from treatments through Joint Replacement Surgery Hospital India.
Hello, my name is Becca Adesina from Nigeria. I visited India for Arthroscopy with the assistance of your medical tourism company. I was suffering from long-standing and repetitive injuries to my ankle. My doctor recommended me to undergo this surgery. Back in my native place there is a lack of medical facilities and so I decided to undergo my surgery abroad. However, the highly expensive surgery in the US made me look for pocket-friendly treatment. Luckily I found your website and got my appointment fixed. I received a warm welcome at the airport and was taken to the hospital. My surgeon was a nice and caring person. The nurses were amazing and took care of all my needs. The hospital room was hygienic. I extend my gratitude to everyone, including the surgeon, nurses and the entire team of medical tourism company for assisting me throughout my journey to India.
Arthroscopy Procedure & Recovery & Effectiveness
Affordable Arthroscopy in India ensures that one has to use anesthesia, though it depends upon the nature of the suspected problem. A small incision may be inserted inside the arthroscopy. Several other incisions may be made to see other parts of the joint. After the surgery the small incisions may be covered with dressing. One will be moved from the operating to the recovery room and many patients need little or no form of medications. After being discharged one will be given instructions on how to care for the incisions.
The amount and the time of the recovery will to a large extend depend upon the complexity of the problem. Occasionally, when one has an eye on Arthroscopy in India reviews it may be noticed that the surgery only cannot provide sure shot results, then an open surgery may be needed.
Why Opting Arthroscopy is necessary?
Free Consultation Arthroscopy in India ensures that the diagnosis is necessary for the joint injuries which begin with a thorough medical history, physical examination and X rays. CT or MRI scans may also be performed if the situation demands. Some of the most frequent conditions which occur during arthroscopic examinations are as follows
Why to choose an Indian Hospital for your Arthroscopy?
In the rampant growth of medical tourism the Indian hospitals have profound impacts. Some of the skilled surgeons who have a proven track record are found in the Indian hospitals.  Many foreign nationals worry about the quality of health care services which they receive abroad, and when it comes to India they have complete peace of mind with the cheapest price Arthroscopy in India. Since English is a language which is spoken by the support staff, the foreign tourists tend to be at ease.

Arthroscopy Cost in India
Low cost Arthroscopy in India ensures that you can make considerable savings in cost when you choose India as the one stop destination for all your medical needs. You can resort to medical tourism companies which provide the best of health care at reasonable prices.  A call or an email will give you further information in this regard.
If you are really seeking Arthroscopy, kindly fill up the form for a free consultation with our surgeons. You will be provided with thorough analysis and suggestions regarding the Arthroscopy you are seeking.
Click to Here Fill up our Enquiry Form
Listen to the Voices of Our Happy Patients
FAQ's
Why should a patient choose Joint Replacement Surgery Hospital India?
Joint Replacement Surgery Hospital India offers highest quality bone and joint health care with attentiveness, care and compassion to meet the needs of the patients and their loved ones. The medical team includes board-certified orthopedic surgeons who are familiar with all the aspects of the musculoskeletal system. Our hospital uses the most advanced technologies available for the orthopaedic procedures and has a lower complication rate.
What is Arthroscopy?
Arthroscopy is a surgical procedure during which the internal structure of a joint is examined for diagnosis and treatment of problems inside the joint.
What conditions are treated with arthroscopic surgery?
Arthroscopic examination of joints is helpful in diagnosis and treatment of the following conditions:
Inflammation: Synovitis, the inflammation of the lining of the knee, shoulder, elbow, wrist, or ankle.
Acute or chronic injury: Injuries to the shoulder, knee and wrist joint, such as cartilage tears, tendon tears, carpal tunnel syndrome.
Osteoarthritis: A type of arthritis caused by cartilage loss in a joint.
Removal of loose bodies of bone or cartilage that becomes logged within the joint.
How is arthroscopy performed?
During arthroscopic surgery, either general, spinal, or a local anesthesia will be given depending on the condition. A small incision of the size of a buttonhole is made through which the arthroscope is inserted. Other accessory incisions will be made through which specially designed instruments are inserted. After the procedure is completed, the arthroscope is removed and incisions are closed.
What are the possible complications associated with arthroscopy?
Some of the possible complications after arthroscopy include infection, phlebitis (clotting of blood in veins), excessive swelling, bleeding, blood vessel, or nerve damage and instrument breakage.
What is the recovery process after arthroscopic surgery?
It may take several weeks for the puncture wounds heal and the joint to recover completely. A rehabilitation program may be advised for a speedy recovery of normal joint function. You can resume normal activities and go back to work within a few days. You may be instructed about the incision care, activities to be avoided, and exercises to be performed for faster recovery.
Will physical therapy be required after surgery?
Getting a full range of motion, strength, and flexibility back after surgery usually takes time. That is where pre-operative exercise, education, and post-operative physical therapy programs come in – to ensure you are physically and emotionally prepared for surgery and to maximize your recovery after surgery.
What should I bring with me when I come for an appointment?
When you come for your appointment remember to bring the following:
Driver's License or a valid ID
Insurance information
Referral Letter (if required)
Reports, X-rays, MRI's, CT scans, etc. and any other relevant information
List of medications (if any)
Can I choose my own hotels according to my budget?
You can most definitely choose hotels as per your convenience to you and your budget.
Can I speak with the doctor before I come to India for treatment?
You can talk to the doctor and satisfy all your medical queries. You can also send us your queries for answers from the top doctors.
How will I get an Indian Medical Visa?
To know about the procedure of getting an Indian Medical Visa, please go to our website where you will find all the details regarding the initial procedure. You can also send us a query regarding the same.
I can only speak my native language?
Many hospitals in India have language translators to help you communicate better and effortlessly with the doctors and medical staff.
tags
affordable arthroscopy at best hospital india, arthroscopy cost in india, arthroscopy in india, benefits of arthroscopy in india, best price hospital for arthroscopy in india, cheapest price of arthroscopy in india, free consultation for arthroscopy in india