E-mail & appointment
Dr. Ameet Pispati, Top Orthopedic surgeon in India
Book Immediate Appointment at Email ID:

dr.ameetpispati@jointsurgeryhospital.com


Number For Fast Track Query Reply
+91-98604-32255.
Profile Details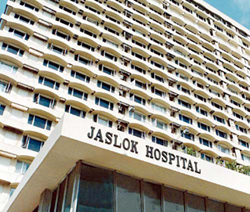 Dr. Ameet Pispati, best orthopedic surgeons Mumbai has been extensively trained internationally in the Joint Replacement, Sports Medicine & Arthroscopic surgery. His expertise has helped make an incredible impact throughout his career. Dr. Ameet Pispati Top Orthopedic surgeon in Mumbai has pioneered various methods and techniques in the Hip surgery and computer aided hip and knee replacement that gives better and long lasting results to the patients. Book an instant appointment with Dr. Ameet Pispati orthopedic surgeon at Jaslok hospital Mumbai
Dr. Pispati has been trained in Mumbai, Germany and the UK and learnt the advanced hip and knee replacement surgery from stalwarts in the Western World. He is an authority in the hip and knee surgery and specialises in the latest knee and shoulder arthroscopic techniques as well as hip and knee replacement procedures. In over 20 years of experience he had the privilege to treat the Indian, Australian and New Zealand Cricket teams. Best Orthopedics specialist in India believes in enabling the rapid recovery post sports surgery, performing the complex knee ligament reconstruction and allowing the athlete to regain his livelihood at the earliest. Consult Dr. Ameet Pispati orthopedist Mumbai India online through our website.
Dr. Ameet Pispati Director of Orthopedics at Jaslok Hospital has desires to spread the Bone Conserving & Rapid Recovery concept for the hip, knee & shoulder surgery in India and other parts of the world. Dr. Ameet Pispati loves to train other orthopedic surgeons in the art and science of Precision Alignment Hip and Knee Surgery. He is passionate about improving the doctor-patient relationship and shows real concern and commitment towards the patient care, diagnostic, therapeutic and even spiritual that stems from a constant desire to want to heal those who entrust themselves and their families in his care. Patients from across the globe prefer to have their hips and knees replaced by him. Fix your appointment by sending your query to Dr. Ameet Pispati Email Address.
Education and Qualifications
M.B.B.S. From King Edward Memorial Hospital and Seth Gordhandas Sunderdas Medical College, 1991
M.S. (Orthopaedics) from the University of Bombay-1994
F.I.A.S (UK)
A.O. Fellow (Germany)
D. Sports Medicine (UK) (Post Graduate Diploma in Sports Medicine) from the University of Birmingham, 1996
MSc Surgery of Trauma (UK) from Rcps of Glasgow, 1997
MCh ORTH (Liverpool)
FRCS ORTH (UK) Trauma & Orthopedic Surgery- The Royal College of Surgeons (RCS), UK, 2000
Specializations
Orthopedist
Joint Replacement Surgeon
Dr. Ameet Pispati's Association with Jaslok Hospital Mumbai
Jaslok Hospital and Research Centre for Excellence in Musculoskeletal Care is designed to advance our lifelong tradition of being a centre of excellent in everything we do. Our multispecialty group of surgical, research and clinical consultants work together in an integrated setting to provide the highest quality of care to nearly one million patients every year. We offer the patients with opportunity to consult with the orthopaedic surgeons and rheumatologists. Our services include sports medicine, hand surgery, orthopaedic oncology, physical therapy, neurology, endocrinology, pain management, radiology, specialised nursing care and nutritional support in a manner offering highly individualized care to one and all. Get immediate response by calling Dr. Ameet Pispati contact number Jaslok Hospital Mumbai.
Also we have a centre for advanced orthopaedic surgery, arthroscopic surgery, joint replacement surgery, sports medicine, paediatric orthopaedics, and sports injury treatment and a comprehensive arthritis management programme. Our department is supported by the most elaborate intensive-care services, a state-of-the-art Physiotherapy and Rehabilitation Department and a modern Accident and Emergency Department. To provide prompt and efficient treatment of accident victims, we have established trauma protocols for the care of the critically injured patients. To book online appointment with Dr. Ameet Pispati, drop a line to Email Address given on our website.
Association of Dr. Ameet Pispati with Wockhardt Hospital Mumbai
Wockhardt Hospital Mumbai is among the country's premiere hospitals that specialized in caring the musculoskeletal system. Our dedicated surgeons with varied knowledge and skills enable us to provide comprehensive orthopedic and compassionate care to our patients. At Wockhardt Hospitals, bone and joint care is one of our core specialities which make it a center for excellence in orthopedics with highly skilled clinical expertise. To get appointment with the Top Orthopedic surgeons at Wockhardt hospital, Mumbai fill the form on our website.
Our hospital provides cutting edge diagnostic and operating facilities such as computerized navigation, imaging and treatment in orthopedics. This helps to accurate the fixation of the implants and joint replacement. A comprehensive support of Rheumatology Services make it a complete program. Additionally, application of minimal access surgery minimizes the extensive drawbacks of surgery, blood transfusion, shorter hospital stay and results in faster recovery. Contact Dr. Ameet Pispati Orthopedic Surgeon at Wockhardt Hospital Mumbai by sending your query.
Achievements
Dr. Ameet Pispati has lectured as Faculty at the Bombay Orthopedic Society and Indian Orthopaedic Association. He has been invited by the Orthopaedic Associations of Malaysia, China, Thailand, Singapore and Indonesia as International Faculty for Hip and knee surgery courses and workshops. Dr. Pispati is one of the few to get international recognition by being invited to perform live complex surgeries in China and Malaysia. Get priority appointment with Dr. Ameet Pispati Contact Wockhardt hospital Mumbai India.
Area of expertise
Computer Navigated Hip and Knee Replacement Surgery
Minimally invasive hip replacements with rapid recovery
Hip Surgery, Hip Replacement (THR), Hip Resurfacing, Revision Hip Replacement
Complex Revision hip replacement (including multiple past revision surgery & previous infection)
Difficult hip replacements made easy (deformed hips, stiff hips, previous Girdlestone, previous arthrodesis, severe protrusio, ankylosing spondylitis)
Complex techniques (Acetabular & Femoral Impaction grafting, Structural allograft acetabular reconstruction, Periprosthetic fracture management)
Specialised surgery for AVN (avascular necrosis of the head of the femur)
Knee Surgery, Knee Replacement (TKR), Revision Knee Replacement
Minimally invasive knee replacements with rapid recovery
Knee resurfacing/Oxford unicompartmental knee surgery
Complex Revision knee replacements (including periprosthetic fracture management, proximal tibial reconstructions, previous infections)
Difficult knee replacements made easy (bad valgus/varus knees, flexion contractures, deformities)
Arthroscopy and Sports Surgery
Surgical reconstruction of the unstable knee (ACL, PCL, multiligament reconstructions)
Arthroscopic Shoulder surgery – Bankart repair for recurrent shoulder dislocation, Rotator cuff repair, frozen shoulder release surgery
Management of Sports injuries
Arthroscopic Knee Surgery - Microfracture techniques, ACL Reconstruction, Meniscal repair, menisectomy, debridement & abrasion chondroplasty, lateral release, arthroscopic tibial plateau fracture fixation, medial patellofemoral ligament repair, cartilage transplants)
Video
Dr. Ameet Pispati, Consultant Orthopedic Surgeon at Jaslok Hospital, Mumbai talks about the modern techniques which simplified the life of patients undergoing joint replacement surgeries.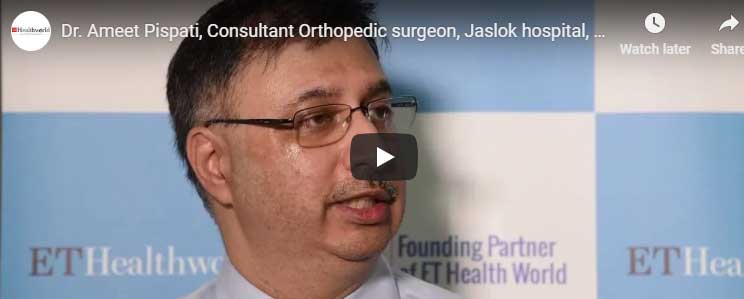 E-mail & appointment
Dr. Ameet Pispati, Top Orthopedic surgeon in India
Book Immediate Appointment at Email ID:

dr.ameetpispati@jointsurgeryhospital.com


Number For Fast Track Query Reply
+91-98604-32255.
Awards/Fellowship
One of the 1st in Asia to perform Hip Resurfacing surgery.
Extensive hands-on training in Joint replacement & Arthroscopic surgery from the best centres in UK and Germany.
1st in Asia to perform Computer Navigated Hip Replacement.
Doctor to Indian Cricket Team for on-site injury management, 2003 – 2005.
International & National Faculty at several Hip and Knee Surgery Meetings, Courses & Workshops Worldwide, including meetings of the Singapore Orthopaedic Association, Malaysian Orthopaedic Association, Indonesian Orthopaedic Association, Asia Pacific Orthopaedic Association (APOA), Asean Arthroplasty Association, Asia Pacific Arthroplasty Society, Chinese Orthopaedic Association, Indian Orthopaedic Association, and other State level Orthopaedic Associations.
Invited to be listed in International Who's Who.
International Faculty at Worldwide "Intelligent Hip and Knee Surgery Courses".
Awarded the Diploma in Surgical Resuscitation by the Institute of Accident Surgery (South Birmingham Trauma Unit) (UK)
Elected as Honorary Fellow of the Institute of Accident Surgery (South Birmingham Trauma Unit) (UK), in view of his exceptional caring and commitment to the care of the injured.
Trained in Advanced fracture management from leading centres in UK, Germany and Switzerland.
Research and Publications
Author of Chapter "Surgery for Arthritis" in Manual of Rheumatology, an Official Publication of Indian Rheumatology Association.
Co-Author of Chapter "Hip Resurfacing" in American textbook "Operative techniques in Orthopaedic Surgery" by Lippincott, Williams and Wilkins.
Reviewer for the Journal of Rheumatology, one of the topmost indexed rheumatology journals.
'Prevention of bedsores in Orthopaedic patients.'
'Prevention of deep vein thrombosis after hip and knee surgery.'
'Paper on blood loss prevention after total knee replacement.'
Google Map Location
Consulting Address of Dr. Ameet Pispati : Jaslok Hospital
Access Way to Jaslok Hospital, IT Colony, Cumballa Hill, Mumbai, Maharashtra 400026
GEO:
13.0479135
,
80.2097138
Tags