Low Cost Total Hip Replacement Surgery in India

Low Cost Total Hip Replacement Surgery in India
What is the Cost of Total Hip Replacement Surgery with Top Hospitals and Top Surgeons in India?
The cost of the Total Hip Replacement Surgery in India is typically a fraction of the cost for the same procedure and care in the US and other developed countries.
The cost can vary as per the diagnosis and conditions of the patients along with the facilities availed.
And if you compare the same with developed nations, the cost for these treatments is often the double than what you find in India.
The list of various factors deciding the price of Total Hip Replacement Surgery in India is as follows :
Treatment Method
Type of Surgery
Other treatments required in conjunction with Total Hip Replacement Surgery
Investigations & evaluation required
Hospital fee
Room Category
The LIST of AVERAGE COST of the Total Hip Replacement Surgery across TOP 15 cities in India in Indian Rupee (INR) is as follows :
| City | Lowest Cost | Average Cost | Highest Cost |
| --- | --- | --- | --- |
| New Delhi | 2,00,000 | 3,00,000 | 4,75,000 |
| Mumbai | 2,00,000 | 3,00,000 | 4,75,000 |
| Chennai | 2,00,000 | 3,00,000 | 4,75,000 |
| Bangalore | 2,25,000 | 3,50,000 | 5,25,000 |
| Hyderabad | 3,00,000 | 3,75,000 | 5,50,000 |
| Ahmedabad | 2,25,000 | 3,50,000 | 5,25,000 |
| Nagpur | 1,75,000 | 2,75,000 | 4,25,000 |
| Pune | 2,50,000 | 3,25,000 | 4,75,000 |
| Gurgoan / Gurugram | 2,50,000 | 3,25,000 | 4,25,000 |
| Kolkata | 3,00,000 | 3,75,000 | 5,50,000 |
| Chandigarh | 2,50,000 | 3,25,000 | 4,75,000 |
| Jaipur | 2,25,000 | 3,00,000 | 4,75,000 |
| Noida | 1,75,000 | 2,75,000 | 4,25,000 |
| Kerala | 2,25,000 | 3,00,000 | 4,75,000 |
| Goa | 2,50,000 | 3,25,000 | 4,75,000 |
The variation in the above cost is dependent on the following :
Type of the hospital (Government/Trust/Private).
Use of insurance, type of insurance or self paid.
Accreditation of the facility
Expertise, seniority, reputation and brand value of the surgeon/doctor.
Planning Affordable Hip Replacement Surgery in India is an easy process.
Our Hospitals Network and Surgery Group is available in 15 cities of India for our patients to access. Kindly fill up the form for a free opinion from our expert team. You will be provided with an analysis and recommendations for your surgery. NO CHARGES LEVIED.
Special ALL SERVICES INCLUSIVE Packages available for INTERNATIONAL PATIENTS
What is Total Hip Replacement Surgery?
The surgical procedure that involves the replacement of diseased cartilage and bone of the hip with artificial materials is known as a total hip replacement surgery. The material used for artificial components of the hip includes chromium, titanium, cobalt and ceramic. Hip Replacement Surgery in India is also called as Hip Arthroplasty, Hip Hemiarthroplasty and Total Hip Replacement. In this surgical procedure, orthopedic surgeon removes the damaged femur and replaces the ball-and-socket component of hip with artificial implants. Hip replacement surgery enables the patient to perform daily activities with ease by relieving the pain and improving the mobility.
Such a joint replacement orthopaedic surgery generally is conducted to relieve arthritis pain or fix severe physical joint damage as part of hip fracture treatment. A total hip replacement (total hip arthroplasty) consists of replacing both the acetabulum and the femoral head while hemiarthroplasty generally only replaces the femoral head. Hip replacement is currently the most common orthopaedic operation, though patient satisfaction short and long term varies widely.
Hip Replacement Surgery in India
A total hip replacement surgery in India is a surgical procedure that replaces the painful hip joint with an artificial hip joint. In a hip replacement, the head of the femur (the bone that extends from the hip to the knee) is removed along with the surface layer of the socket in which it rests (called the acetabulum).
The head of the femur, which is situated within the pelvis socket, is replaced with a metal ball and stem. This stem fits into the shaft of the femur.
The socket is replaced with a plastic or a metal and plastic cup.
Recently there has been a return to the earlier version of the operation when the hip was 'resurfaced'. Rather than remove the head of the femur it is covered by a metal cover. The socket is replaced with a metal socket.
For nearly a century, doctors have been putting various materials into diseased and painful hip joints to relieve pain. Up until the 1960s, outcomes had been unreliable. At that time, the metal ball and plastic socket for the replacement of the hip joint was introduced. Today, the artificial components used in a hip replacement are stronger and more designs are available.
There are many different shapes, sizes, and designs of artificial components of the hip joint. For the most part these are composed of chrome, cobalt, titanium, or ceramic materials. Some surgeons are also using custom-made components to improve the fit in the femur.
What are the benefits of Total Hip Replacement Surgery?
If the patients who have hip damage, but no relief after using anti inflammatory medicines and physiotherapy, hip replacement is the only option to eliminate hip pain. Hip replacement surgery restores normal hip function of the patient and improves physical functioning like walking and other movements.
Overall, a hip replacement surgery can give freedom from pain and fatigue. The benefits also include Cheapest Price of Hip Replacement Surgery in India, almost zero wait list for patients at Top Affordable Hip Replacement Surgery Hospital India.
Candidates for Total Hip Replacement Surgery
Osteoarthritis of the hip most commonly affects people who are middle-aged and older. Symptoms range from mild discomfort to severe pain and immobility. Treatment for osteoarthritis of the hip focuses on decreasing pain and improving joint movement. When conservative methods of treatment fail to provide adequate relief, hip replacement may be considered.
An orthopaedic surgeon, who specializes in treating problems of the bones and joints, will evaluate if you are a candidate for a hip replacement. The surgeon will discuss your medical history, measure the range of motion and muscle strength of your hips, and observe how you sit, bend, and move. In addition, x-rays will be taken to determine the extent of damage to your hip joints. If the x-ray shows severe joint damage and no other means of treatment have provided relief, the orthopaedic surgeon may suggest hip replacement surgery.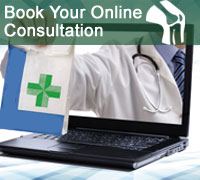 Planning your medical trip to India is a very simple process with Joint Replacement Surgery Hospital India
You just need to fill in our enquiry form and one of our executives will contact you soon.
+91-9860432255  Call us at the given contact number for any assistance.
Complete information regarding surgery is provided on our website.
Click to Here Fill up our Enquiry Form
Who Should Have a Total Hip Replacement Surgery?
People with hip joint damage that causes pain and interferes with daily activities despite treatment may be candidates for hip replacement surgery. Osteoarthritis is the most common cause of this type of damage. However, other conditions, such as rheumatoid arthritis (a chronic inflammatory disease that causes joint pain, stiffness, and swelling), osteonecrosis (or avascular necrosis, which is the death of bone caused by insufficient blood supply), injury, fracture, and bone tumors also may lead to breakdown of the hip joint and the need for hip replacement surgery.
In the past, doctors reserved hip replacement surgery primarily for people over 60 years of age. The thinking was that older people typically are less active and put less stress on the artificial hip than do younger people. In more recent years, however, doctors have found that hip replacement surgery can be very successful in younger people as well.
New technology has improved the artificial parts, allowing them to withstand more stress and strain and last longer.
Today, a person's overall health and activity level are more important than age in predicting a hip replacement's success. Hip replacement may be problematic for people with some health problems, regardless of their age. For example, people who have chronic disorders such as Parkinson's disease, or conditions that result in severe muscle weakness, are more likely than people without chronic diseases to damage or dislocate an artificial hip. People who are at high risk for infections or in poor health are less likely to recover successfully. Therefore, they may not be good candidates for this surgery. Recent studies also suggest that people who elect to have surgery before advanced joint deterioration occur tend to recover more easily and have better outcomes.
Symptoms
Hip arthritis typically causes pain that is dull and aching. The pain may be constant or it may come and go. Pain may be felt in the groin, thigh and buttock with possible referred pain to the knee. Walking long distances can also cause severe pain resulting in the patient limping. Some patients may need a cane, crutch, or walker to help them get around. Pain usually starts slowly and worsens with time and higher activity levels.
Patients with a bad hip joint can have difficulty in certain normal activities like climbing stairs, wearing trousers, tying shoes and clipping toenails.
Diagnosis
A complete history and physical examination allow the physician to determine any correlation between symptoms of pain with past history and demands that have been placed upon the hips. The physician will inquire about experiencing episodes of trauma or instability, and examine the ligaments and hip alignment.
X-rays are used to determine the extent of degeneration to the cartilage or bone and may suggest a cause for the degeneration of the hip joint. Blood tests and joint aspiration (removing a small amount of fluid from the affected hip joint) may be required to rule out systemic arthritis (such as Rheumatoid Arthritis) or infection in the hip if there is reason to believe that other conditions are contributing to the degenerative process.
What Are The Treatment Options For Hip Joint Damage?
Several hip replacement procedures are performed to replace the head of the femur with new, artificial parts. They include Total Hip Replacement, Hip Resurfacing, Proxima Hip Replacement procedure, Computer Assisted Surgery, Revision Hip Replacement treatment and Bilateral Hip Replacement. Since, hip replacement is a major operation, depending on the damage and necessity, the surgeon will decide the treatment option.
People from all over the world visit abroad for their medical and surgical needs. India has become a favorable destination for medical tourists because of its infrastructure and technology that are on par with those in western countries.
For hip arthritis, the first treatment a doctor may recommend is over-the-counter, anti-inflammatory medications. Certain nutritional supplements including glucosamine could provide some relief. Short-term physical therapy may help improve strength and reduce pain. Transferring of weight to a walker helps relieve pain and walking ability.
General anesthesia is most used for joint replacement surgeries, but sometimes regional anesthesia is also used. This depends on your doctor, on your overall health and personal preference.
The damaged cartilage and bone is first removed. To remove the worn out ball of the ball-and-socket hip joint, the bone is cut to remove the femoral head. In order to insert a new joint, the damaged bone and cartilage must first be removed. Once the arthritic ball is removed, the worn out socket can be addressed. Unlike the ball, this bone cannot be cut off — the socket of the hip joint is part of the pelvis bone.
A reamer is used to scrape away the damaged cartilage and bone and a smooth, perfectly rounded surface are got which accepts the new hip implant. Once the damaged bone has been removed, the new socket of the hip replacement can be inserted. The socket of the pelvis is called the acetabulum and the part of the hip replacement inserted into the socket is called the acetabular component. The acetabular component is held tightly in the pelvis by making the socket slightly smaller than the acetabular component and wedging the implant into the bone. The implant has a rough surface to allow bone to grow into the surface of the implant over time.
Now that the socket has been addressed, attention can turn to the ball of the ball-and-socket hip joint. The ball is supported with an implant inserted down the hollow center of the thigh bone (femur). This implant is called the femoral stem.
For the femoral stem to be held tightly in the bone special tools are used to shape the center of the thigh bone to accommodate the femoral stem. With the bone prepared, the femoral stem is inserted and held in the bone with or without cement.
If bone cement is used, the cement is inserted in a liquid form and the stem is then placed. The cement permanently hardens within a few minutes to hold the implant fixed within the bone. When no cement is used, the implant is called "press-fit." This means that the implant is wedged tightly into the bone. A rough surface covering the implant allows bone to grow into the implant over time.
With the stem inserted down the center of the thigh bone, the ball of the ball-and-socket hip joint can be inserted on top of the stem. A metal ball tightly fits onto the top of the stem.
Precaution
Avoid sitting on low chairs, beds or toilets
Do not raise your knee higher than the level of your hip
One should not lean forward while sitting down or as you stand up
Avoid crossing legs for over 8 weeks
The leg should not rotate in or too far out
Before Operation
Preparing for a hip replacement begins weeks before the actual surgery date. In general, patients may be told to:
Consider autologous blood donation –To avoid using donor blood, patients may donate their own blood ahead of time. While some total joint procedures do not require blood transfusion, it is possible that a patient may need blood during or after surgery.
Begin exercising under a physician's supervision-It is important to be in the best possible overall health to help promote the best possible surgical experience. Increasing upper body strength is important because of the need to use a walker or crutches after hip or knee replacement. Strengthening the lower body is also key because increasing leg strength before surgery can reduce recovery time.
Have a general physical examination-Patients who are considering total joint replacement should be evaluated by their primary care physician to assess overall health and identify any medical conditions that could interfere with surgery or recovery.
Have a dental examination-Although infections after joint replacement are not common, an infection can occur if bacteria enter the bloodstream. Therefore, dental procedures such as extractions and periodontal work should be completed before joint replacement surgery.
Stop taking certain medications-Your orthopaedic surgeon can advise you which over-the-counter and prescription medications should not be taken before surgery.
Stop smoking-A good idea at any time, but particularly before major surgery in order to help reduce the risk of post-operative lung problems and improve healing.
Lose weight-In patients who are obese, losing weight will help reduce stress on the new joint.
Arrange a pre-op visit-An important opportunity to meet with healthcare professionals at the hospital to discuss your personal hospital care plan, including anesthesia, preventing complications, pain control, and diet.
Have routine laboratory tests-Blood tests, urine tests, an ECG or cardiogram, and chest X-ray may be prescribed to confirm that you are fit for surgery.
Evaluate post-surgical needs for at-home care –Every patient who undergoes total joint replacement will need help at home for the first few weeks, including assistance with preparing meals and transportation.
Recovery
Pain medication will be given depending on the severity of the pain. Anticoagulants may be prescribed for several weeks following surgery.
On a cemented joint, mobilization can be done and partial weight loading is done within 24 hrs. On an un-cemented hip for weight bearing is not permitted for about 6 weeks. With a cemented or hybrid (one piece cemented and one piece un-cemented) hip, you can usually put some weight on your leg right away, but you'll still need a walker, a cane, or crutches for several weeks.
In general, most people get out of bed with help on the day after surgery. A walker or crutches will be used during the initial phase. A physiotherapist and sometimes an occupational therapist will guide you on basic movements and exercises.
Why You Should Choose India for Total Hip Replacement Surgery?
Hip Replacement Surgery India Reviews show that India is a favored destination for orthopedic surgery and provides world class treatment in hip replacement. The world class treatment by internationally certified surgeons, best medical facilities, dedicated specialized hospitals are some of the key factors that attract patients from abroad to get treated in India.
The skilled, experienced surgeons in India use the latest scientific procedures to ensure speedy recovery of the patients. Best Hospitals in India, provide high quality and cost effective hip replacement treatment options. They boast of state of the art diagnostics, world class operating theaters, cutting edge technologies, expert professionals along with highly efficient English speaking paramedical staff.
India has become a hub of orthopedic surgeries as it offers advanced technology and high quality procedures on par with hospitals in developed countries at a fraction of the cost. India possesses some of the best hospitals and treatment centers like Joint Replacement Surgery Hospital India in the world with latest facilities. That's why more and more western patients prefer India for their medical needs. Combining with a refreshing holiday, medical tourism in India is amidst the best in the world.
Our Treated Patient Experience – Mr. Jacob Poya from Philippines about his Low Cost Total Hip Replacement Surgery.
I have been suffering with the arthritis pain in my hip from a few years now and it was becoming difficult to even carry out simple day-to-day activities with the recurring pain. Though I knew that my only option for permanent relief was a hip replacement surgery, I was a bit apprehensive because of the cost and risks involved. A friend then introduced me to Joint Replacement Surgery Group in India who had treated her also and I was amazed to see the way they carried out the entire procedure so smoothly while making me feel completely satisfied with the end result.
How to Get Qualitative Total Hip Replacement Surgery in India?
As the name implies, free consultation total hip replacement surgery in India is the surgery for the replacement of the hip, the need for which could arise due to hip arthritis or an accident. Patients need to undergo total hip replacement surgery in severe cases where medicines are unable to ease the chronic pain caused due to the friction between the ball and socket joint of the thigh bone and the pelvis. The procedure involves replacing these joints with artificial parts, which then provide relief from the pain and enable the patient to carry on the daily routine activities.
AffordableTotal Hip Replacement Surgery in India is provided in select towns and cities owing to the complex nature of the surgery. However, the hospitals that do provide this surgery are super specialty hospitals that are equipped to carry out such procedures. The best thing about getting the surgery done in Indian super specialty hospitals is the experience of the doctors and surgeons. During the recent years, we have seen that the Indian doctors and surgeons making a mark at the medical forum on an international platform with breakthrough performances in complex surgeries using latest techniques. Many of the doctors have pioneered the technique of joint replacement surgery and have offered their services in several different hospitals in the world, gaining experience and expertise during the process.
While the total hip replacement surgery is provided in all metro cities of India. The hospital has received special acclaim for carrying out complex joint replacement surgeries with ease and success. The doctors and surgeons at the hospital are highly skilled, trained and experienced. Comparing with the best hospitals in the world, the Hospital is at par with the international standards of medical and health care, provision of world class, high quality treatment, usage of equipment and ambience. While the skill and dexterity of the surgeons are one reason to get the said surgery at the hospital there are some other benefits of getting the joint replacement surgeries here. One of these benefits relates to the cost of joint replacement surgery and the other is that of the absence of any waiting period.
Contact Best Hip Replacement Hospital in India to get highest quality medical services and care at low price. The low Cost Hip Replacement Surgery in India do not compromise with the quality of medical services and treatments thereby adheres to the International Standards.
Joint replacement surgery is a type of surgery that involves high costs and most of the world-renowned advanced hospitals of the world have a long waiting period before a patient can get the said surgery. However, in India the trend is exactly the opposite. While there is virtually no waiting period to get any type of joint replacement surgery, the cost of the surgery is also very low as compared to the cost of the same procedure in any advanced hospital in countries like the US and the UK. This makes India a lucrative choice to get the surgery done.
Overseas patients can find all information related to the joint surgery in India by accessing the Joint Replacement Surgery Hospital India website or by taking the services of the premier medical tourism consultants that take care of all issues related to medical tourism in India.
How many patients underwent Total Hip Replacement Surgery in India in the last 5 years?
In recent years, India has emerged as a medical hub for patients looking for affordable, accessible and efficient low cost Total Hip Replacement Surgery. This emergence is primarily due to the development of state-of-the-art private and public sector healthcare facilities, medical insurance and the ease of access to quality healthcare services. An average increase of 15 to 20 percent annually has been observed in the number of patients in the last 5 years.
Here are the approximate figures of the patients underwent Total Hip Replacement Surgery in the last 5 years in India :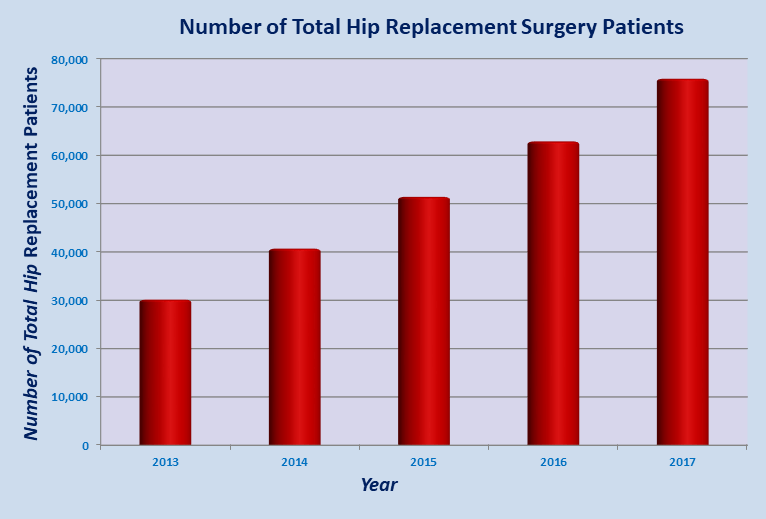 Who Are The Top Listed Surgeons For Hip Replacement Surgery In India?
DR. VIJAY BOSE
DR. KAUSHAL MALHAN
DR. IPS OBEROI
DR. ASHOK RAJGOPAL
DR. SANJAY GUPTA
DR. RAJEEV VERMA
DR. VIJAY KUMAR S
DR. SAJAN K HEGDE
DR. AMEET PISPATI
DR. SHEKHAR BHOJRAJ
DR. HARESH MANGLANI
DR. MANOJ MIGLANI
DR. S K S MARYA
DR. DHANANJAY GUPTA
DR. KAMAL BACHANI
DR. A B GOVINDRAJ
DR. SANJAY SARUP
DR. (BRIG.) B. K. SINGH
List of The Best Hospitals For Hip Replacement Surgery In India
ASIAN JOINT RECONSTRUCTION INSTITUTE
FORTIS HOSPITAL MUMBAI
FORTIS MALAR HOSPITAL, CHENNAI
MEDANTA HOSPITAL GURGAON
ARTEMIS HOSPITAL, GURGAON
FORTIS HOSPITAL, BANGALORE
PARAS HOSPITALS, GURGAON
JAYPEE HOSPITAL NOIDA
MAX SUPER SPECIALTY HOSPITAL, SAKET, NEW DELHI
KOKILABEN DHIRUBHAI AMBANI HOSPITAL, MUMBAI
SHALBY HOSPITAL, AHEMDABAD
PUSHPAWATI SINGHANIA RESEARCH INSTITUTE, NEW DELHI
BLK SUPER SPECIALITY HOSPITAL, NEW DELHI
INDRAPRASTHA APOLLO HOSPITAL, NEW DELHI
PUSHPAWATI SINGHANIA RESEARCH INSTITUTE, NEW DELHI
FORTIS MEMORIAL RESEARCH INSTITUTE, GURGAON
FORTIS FLT. LT. RAJAN DHALL HOSPITAL, VASANT KUNJ, NEW DELHI
Are you looking for affordable cost of Hip Replacement Surgery in Top Hospitals of India?
Please enquire with us, Get a "No Obligation Quote"
If you are really seeking for Total Hip Replacement Surgery, kindly fill up the form for a free consultation with our surgeons. You will be provided with thorough analysis and suggestions regarding the Total Hip Replacement Surgery you are seeking.
Click to Here Fill up our Enquiry Form
Listen to the Voices of Our Happy Patients
Faq's
What is the major cause of hip pain?
Arthritis is the major cause of the hip pain.
How should I prepare for my hip replacement?
Low impact cardio exercises are a good way to prepare for hip replacement surgery. Consider using an exercise bike, doing water aerobics or swimming. Not only are these exercises helpful in your surgery preparation, it can also improve the symptoms of your arthritis.
Should I add or subtract any foods from my diet?
I really like it when patients have enough calcium in their diet. I ask patients to take 400 mg of calcium with each meal and 1000 IU of Vitamin D each day. The extra vitamins will help your body grow into your hip components and make it stronger.
How old are your hip replacement patients?
I have had patients in their 30s, which is rare, 40s, which is not quite as rare, 50s, 60s and 70s are the most common ages. That being said I have had patients in their 80s and even in their 90s.
Why did the 30-year-old need a hip replacement?
They had a condition where the hip bone died and it could not be replaced.
When should I expect to feel relief from my hip pain after my hip replacement?
Total hip replacements are really fun because it is no exaggeration that patients will tell me they feel better the day-after-surgery than they did the day-before-surgery.
What should I expect to be the hardest part of my recovery following my hip replacement surgery?
The hardest part will probably be gaining physical capabilities you haven't had in years. Many people are just happy to get their hip replaced and be able to do the things they used to do immediately before the replacement but now can do it without pain. Our goal is for the patient to think back years ago, before they had pain and regain that level of fitness. The reason it is hard is because a lot of people don't ever think they will get back to that activity level. It just takes time.  How far were you hiking? Or dancing? Or golfing?  Were you riding your bike further?  Were you doing other things?  You can regain a higher level of fitness you haven't had in years.
Will I have to stay in the hospital after my hip replacement surgery?
Yes, the surgery is an inpatient procedure; however, most patients leave two days after surgery.
Will I be on bed rest for those two days following my hip replacement surgery?
No, if we do the surgery in the morning you will be out of bed by the end of the day. If we do the surgery later in the day, you will be out of bed the following morning.
What will I do "out of bed"?
You will be weight bearing as tolerated. The hospital staff will teach you how to get in and out of bed safely. Before you go home, they will make sure you are able to go up and down stairs.
Will you prescribe physical therapy? How long will therapy last?
We always prescribe physical therapy. It usually starts in your house and progresses to an outpatient facility. The sooner we can get you to a physical therapy clinic the better because the therapy center has more equipment and is more conducive to recovering from a hip replacement surgery.
Can I replace both of my hips in the same year?
You can easily replace both hips in the same year. The real go-getters will have their surgeries within six weeks of each other. More commonly people will have the hip replacement surgeries, three months apart.
When can I return to work after my hip replacement?
Someone with a desk job might return to work in 3-6 weeks. For someone in construction it will be closer to 8-12 weeks.
Will I have any limitations in regard to physical activities after I fully recover from my hip replacement surgery?
There are dislocation precautions that are theoretically in place your whole life. Practically speaking, no one ever feels restricted after their hip replacement. They don't feel like they can't do things. The hip dislocation precautions are just part of your life.  They are not that restrictive, but they are onerous.
What approach do you use when performing a total hip replacement?
Usually, our orthopaedic surgeon's use the posterior lateral approach which is the traditional/standard approach. There was a time that the surgeons did the anterior lateral approach too. We have such great results with the standard posterior approach – the patients are walking within two days and some take very few pain pills.
How large will my scar be following my hip replacement?
The shortest scars are less than four inches and it is unusual that I would go more than six inches.
I've heard you send your patients to the dentist before a total hip replacement, is this true?
Yes, I have all my patients see the dentist before I replace their hips to make sure their mouth is healthy. If you have any source of infection in your mouth it needs to be treated as best as possible so there is no risk of infection from your mouth to your new hip. After the replacement, we want you to see a dentist 2 times per year.  Good dental hygiene is very important.
Do I need to take an allergy test?
Your allergic response at the skin level is much different than that at the bone level. I have never had to take out a hip or knee because of allergies.
Will I need a walker?
Yes, most people want a walker right after surgery; however, most people are done using their walker by the time they get to the ten day post-operative follow-up in my office.
Is there anything else I should pre-plan for?
Pre-planning is important. It is helpful to have people at home to help.
Is there anything else that people ask that I have forgotten?
It's much easier to recover from a hip replacement verses a knee replacement. Most people don't need a blood transfusion.
Can I choose my own hotels according to my budget?
You can most definitely choose hotels as per your convenience to you and your budget.
Can I speak with the doctor before I come to India for treatment?
You can talk to the doctor and satisfy all your medical queries. You can also send us your queries for answers from the top doctors.
How will I get an Indian Medical Visa?
To know about the procedure of getting an Indian Medical Visa, please go to our website where you will find all the details regarding the initial procedure. You can also send us a query regarding the same.
I can only speak my native language?
Many hospitals in India have language translators to help you communicate better and effortlessly with the doctors and medical staff.
Tags
Low Cost Total Hip Replacement Surgery in India, Cost Benefits of Total Hip Replacement in India, Lowest Price for Total Hip Replacement in India, Total Hip Replacement Cost in India, Top Surgeons Total Hip Replacement Surgery in India, Low Cost Total Hip Replacement, Top Hospitals Total Hip Replacement Surgery in India, Top Surgeon For Hip Replacement Surgery In India, Top Hip Replacement Surgeon In India, Best Orthopedic Surgeons In India, Best Orthopedic Surgery Hospitals In India, Hip Replacement Surgery in India Experience