Low Cost Hip Resurfacing (Birmingham Hip) in India
Low Cost Hip Resurfacing (Birmingham Hip) in India
What is the Cost of Hip Resurfacing Surgery (Birmingham Hip) with Top Hospitals and Top Surgeons in India?
The cost of the Hip Resurfacing Surgery (Birmingham Hip) in India is typically a fraction of the cost for the same procedure and care in the US and other developed countries.
The cost can vary as per the diagnosis and conditions of the patients along with the facilities availed.
And if you compare the same with developed nations, the cost for these treatments is often the double than what you find in India.
The list of various factors deciding the price of Hip Resurfacing (Birmingham Hip) Surgery in India is as follows :
Treatment Method
Type of Surgery
Other treatments required in conjunction with Hip Resurfacing (Birmingham Hip) Surgery
Investigations & evaluation required
Hospital fee
Room Category
The LIST of AVERAGE COST of the Hip Resurfacing (Birmingham Hip) Surgery across TOP 15 cities in India in Indian Rupee (INR) is as follows :
| City | Lowest Cost | Average Cost | Highest Cost |
| --- | --- | --- | --- |
| New Delhi | 2,25,000 | 3,00,000 | 4,25,000 |
| Mumbai | 2,50,000 | 3,75,000 | 4,75,000 |
| Chennai | 2,50,000 | 3,75,000 | 4,75,000 |
| Bangalore | 2,75,000 | 4,25,000 | 5,25,000 |
| Hyderabad | 3,00,000 | 4,50,000 | 5,50,000 |
| Ahmedabad | 2,75,000 | 4,25,000 | 5,25,000 |
| Nagpur | 2,25,000 | 3,00,000 | 4,25,000 |
| Pune | 2,50,000 | 3,75,000 | 4,75,000 |
| Gurgoan / Gurugram | 2,25,000 | 3,00,000 | 4,25,000 |
| Kolkata | 2,75,000 | 4,25,000 | 5,25,000 |
| Chandigarh | 2,75,000 | 4,25,000 | 5,25,000 |
| Jaipur | 2,50,000 | 3,75,000 | 4,75,000 |
| Noida | 2,25,000 | 3,00,000 | 4,25,000 |
| Kerala | 2,50,000 | 3,75,000 | 4,75,000 |
| Goa | 2,75,000 | 4,25,000 | 5,25,000 |
The variation in the above cost is dependent on the following :
Type of the hospital (Government/Trust/Private).
Use of insurance, type of insurance or self paid.
Accreditation of the facility
Expertise, seniority, reputation and brand value of the surgeon/doctor.
Planning Affordable Hip Resurfacing (Birmingham Hip) Surgery in India is an easy process.
Our Hospitals Network and Surgery Group is available in 15 cities of India for our patients to access. Kindly fill up the form for a free opinion from our expert team. You will be provided with an analysis and recommendations for your surgery. NO CHARGES LEVIED.
Special ALL SERVICES INCLUSIVE Packages available for INTERNATIONAL PATIENTS
Hip Resurfacing (Birmingham Hip) in India
Hip resurfacing is the alternate form of hip arthroplasty which conserves the proximal femoral bone. The advantage means  a greater range of motion of the hip joint after surgery along with a lower rate of dislocation. This form of surgery may be more suitable for young and active patients. Hip resurfacing in India has been developed as an alternative to total hip replacement. On why it is called Birmingham is that it happens to be the place where the hip resurfacing surgery was defined.
How do I know if I am a good candidate for Hip Resurfacing (Birmingham Hip) Procedure?
You need to consider, many factors, in whether it is the right time to have surgery. The factors include the present quality of life, and the level of pain. The extent of damage to the hip and the rest of the body are also important indicators.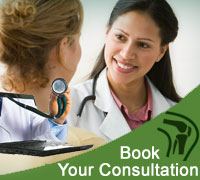 Planning your medical trip to India is a very simple process with Joint Replacement Surgery Hospital India
You just need to fill in our enquiry form and one of our executives will contact you soon.
+91-9860432255  Call us at the given contact number for any assistance.
Complete information regarding surgery is provided on our website.
Click to Here Fill up our Enquiry Form
Hip Resurfacing (Birmingham Hip) Procedure & Recovery & Effectiveness
Hip Resurfacing (Birmingham Hip) Procedure is a metal on metal resurfacing artificial hip replacement system which is surgically implanted to remove the hip joint. The system has two parts, a socket which is the form of a shallow cup and  cap in the form of a ball head.
Blood transfusions may be necessary after the surgery when you are still in the hospital. If you are into medications you need to avail the opinion of the doctor who can guide you better.
The effectiveness of Hip Resurfacing (Birmingham Hip ) include the following features
Less bone removed and a healthier bone developed
Better function of the hips
Minimum risk of dislocation
Easier revision if another hip replacement becomes necessary
Why Opting Hip Resurfacing (Birmingham Hip) is necessary?
Hip Resurfacing (Birmingham Hip) in India reviews indicates that it is necessary for the young patients who want to remain active. In this surgery more of the patient's own bone, called the femoral neck is preserved. In hindsight the patient can lead a more active lifestyle after completion of this surgery. Patients who have undertaken this form of surgery can return to active sports.
Benefits of Hip Resurfacing (Birmingham Hip) in India
The benefits include Cost Benefits Hip Resurfacing Surgery in India, the best hip surgeons in India, Cheapest Hip Resurfacing at Best Hospital in India with latest technology and equipments.
Our Treated Patient Experience – Mrs. Judie Pollock from New Zealand about her Low Cost Hip Resurfacing (Birmingham Hip) Surgery.
My experience with the Joint Replacement Surgery Group in India for the Birmingham hip resurfacing procedure has been quite fulfilling. The doctors in the hospitals in India are really understanding of their patients' fears and sufferings and are always available to answer even minute queries, both before the procedure and during the follow-ups. It's been 3 months since my surgery and I have not suffered from any pain or problem in my hip since then. In fact, I feel more confident and energetic with each passing day to participate in all those activities which I used to pass on earlier due to my hip problems.

Why to choose an Indian Hospital for your Hip Resurfacing (Birmingham Hip)?
India is the next medical destination for medical tourists from all over the world. A testimony to this fact is that the number of patients visiting India has increased manifold in the last few years. One of the prime reasons for it is Affordable Hip Resurfacing (Birmingham Hip) in India with the best of quality. In fact, cashing in on this lot of medical tourism companies have evolved and they also provide the services of Free Consultation Hip Resurfacing (Birmingham Hip) in India
How many patients underwent Hip Resurfacing (Birmingham Hip) Surgery in India in the last 5 years?
In recent years, India has emerged as a medical hub for patients looking for affordable, accessible and efficient low cost Total Hip Resurfacing (Birmingham Hip) Surgery. This emergence is primarily due to the development of state-of-the-art private and public sector healthcare facilities, medical insurance and the ease of access to quality healthcare services. An average increase of 15 to 20 percent annually has been observed in the number of patients in the last 5 years.
Here are the approximate figures of the patients underwent Hip Resurfacing (Birmingham Hip) Surgery in the last 5 years in India :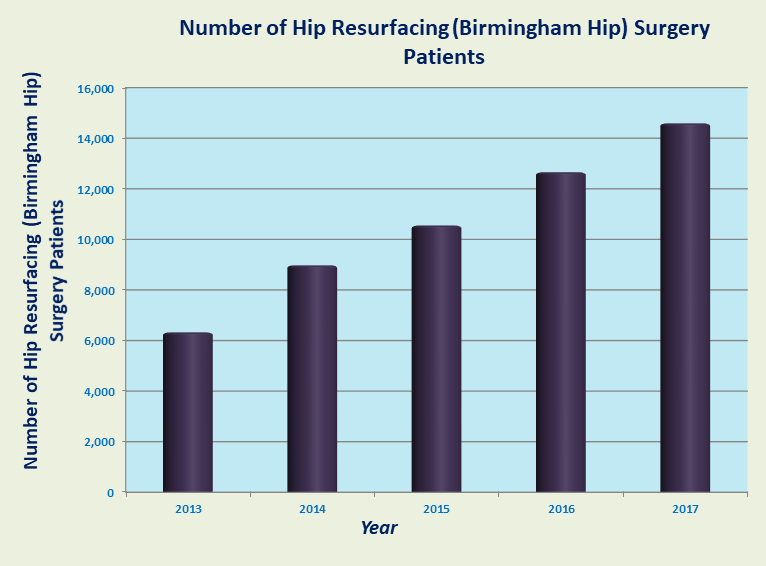 The Most Recommended Surgeons for Hip Resurfacing (Birmingham Hip) Surgery In India
DR. VIJAY BOSE
DR. KAUSHAL MALHAN
DR. IPS OBEROI
DR. ASHOK RAJGOPAL
DR. VIJAY KUMAR S
DR. SAJAN K HEGDE
DR. S K S MARYA
DR. (BRIG.) B. K. SINGH
DR. GYAN SAGAR TUCKER
DR. DHANANJAY GUPTA

DR. KAMAL BACHANI
DR. A B GOVINDRAJ
DR. VINAY S JOSHI
DR. DEVENDRA YADAV
DR. CHANDER SHEKHAR
DR. PRADEEP SHARMA
DR. VIKRAM I SHAH
DR. SANJAY GUPTA
DR. RAJEEV VERMA
DR. BALVINDER RANA
Which Are The Top Hospitals Specialized At Hip Resurfacing (Birmingham Hip) Surgery In India?
FORTIS HOSPITAL MUMBAI
FORTIS MALAR HOSPITAL, CHENNAI
ASIAN JOINT RECONSTRUCTION INSTITUTE
FORTIS HOSPITAL, BANGALORE
PUSHPAWATI SINGHANIA RESEARCH INSTITUTE, NEW DELHI
FORTIS FLT. LT. RAJAN DHALL HOSPITAL, VASANT KUNJ, NEW DELHI
MAX SUPER SPECIALTY HOSPITAL, SAKET, NEW DELHI
MEDANTA HOSPITAL GURGAON

JAYPEE HOSPITAL NOIDA
SHALBY HOSPITAL, AHEMDABAD
ARTEMIS HOSPITAL, GURGAON
PARAS HOSPITALS, GURGAON
INDRAPRASTHA APOLLO HOSPITAL, NEW DELHI
KOKILABEN DHIRUBHAI AMBANI HOSPITAL, MUMBAI
BLK SUPER SPECIALITY HOSPITAL, NEW DELHI
FORTIS MEMORIAL RESEARCH INSTITUTE, GURGAON
Are you looking for affordable cost of Hip Resurfacing (Birmingham Hip) Surgery in Top Hospitals of India?
Please enquire with us, get a "No Obligation Quote"
Listen to the Voices of Our Happy Patients
FAQ's
What is the wait time for Birmingham Hip Replacement surgery?
While there is usually a number of people waiting for this procedure some scheduling flexibility is possible based on need and availability. Additionally, as outlined in my practice philosophy, expedited consultation and private surgery can be arranged (ideally allowing treatment within several months instead of several years). Send us your query to get definitive information.
Will I be able to do long distance running after surgery and recuperation?
Birmingham replacement in this age group is thought to have a lower failure rate than more conventional stemmed prostheses. Patients have been reported to resume running. I do not recommend this. If this is realistic for you (i.e. no other major health or joint issues), you have to accept a gradual return to this high level of activity, to strengthen the femoral neck bone. Furthermore, intense running may still lead to early or earlier failure. It will almost certainly increase the rate of metal ion generation, which may have implications for your general health. This concern has not been substantiated as of to date.
What is the "life expectancy" of Birmingham Hip Resurfacing?
A standard hip replacement has approximately 90-95% chance to be still satisfactory and functional at 10 years. The exception is the group of young patients, perhaps between 40-55 y of age, who have a markedly higher failure rate. However, the effect of newer bearing surfaces of the longevity of standard total hip replacement in this group has not been established yet. Most likely, significant improvement will be obtained with these newer designs.The Birmingham hip replacement may have a very low failure rate at 8 years, approximately 1%. More recent data suggests that a slightly higher early failure rate may be present. It is thought that once the first 1-2 years have passed the risk of failure becomes very low.
Based on this, most Birmingham hip replacements are expected to last for a long time, 20 or 30 years would not be unreasonable to assume. However, only time will tell.
What are the tips for preparing for Birmingham Hip Resurfacing Surgery?
1) Preparing Your Body
Increase your upper body strength to enable you to use mostly your arms after surgery.
Lose weight reducing the weight strain on your new hip.
Stop taking any anti-inflammatory medications or aspirins at least 10 days prior to surgery.
Stop smoking as early as you can before Birmingham Hip Resurfacing surgery.
2) Preparing Your Home
Rent or purchase special equipment to make your home life comfortable when you return from your surgery: some long-handled devices to avoid bending more than 90 degrees, elevated toilet seat, good chair cushions, and a shower chair.
3) Preparing to Travel
It is generally safe to travel within a week of your surgery. Discuss this with your doctors. Take advantage of the wheelchair services offered at the airports.
What is the Recovery Period following a Hip Resurfacing?
The recovery period following Hip Resurfacing surgery will vary depending on the patient. In general, the orthopaedic surgeon will encourage the patient to use the new joint soon after the operation. Usually the patient will be standing and beginning to walk within several days. The patient will normally use crutches or cane for a period of time. The patient will also learn to do appropriate exercises to move and strengthen the joint.
What are the Benefits of Hip Resurfacing Surgery?
With the development of Birmingham hip resurfacing surgery, many advantages exist for hip resurfacing surgery compared to the traditional full hip replacement.

Smaller Device: Birmingham device is chrome cobalt, metal combination. It is smaller than a traditional total hip device. With a smaller device the recovery is quicker.
Reduction in the Bone removed: Birmingham hip resurfacing literally means retreading the bone with a metal prosthesis. Therefore, there is a significant decrease in the amount of bone removed. Only a very small amount of bone needs to be removed. The femur (thigh) bone does not need to be damaged.
Decrease in Complication Rates: Birmingham hip surgery greatly reduces the disruption of the joint, therefore providing a shorter recovery period and a decrease in some complications. There is a dramatic reduction of dislocation rates and a reduction to the problem of lengthening or shortening of the leg.
Shorter Recovery Time: Most Birmingham hip patients are walking 4 hours after surgery. Total time spent in hospital is approximately 2 days. Within 2 weeks, most patients are back driving, resuming most of their normal activities. Birmingham hip resurfacing dramatically improves quality of life. For total hip replacement most people remain in hospital for 5-6 days and remain off driving for 6 weeks.
More stable hip: Because hip replacements use a smaller ball (to allow thicker plastic for longer wear) the range of movement is less and the dislocation rate greater (up to 1 in a 25) than a BHR. The hip resurfacing has a dislocation rate of less than 1 in 500 because the ball is not removed and remains the same size as the patient's original hip. The range of movement is greater. Because the hip is more stable and feels more normal, the recovery is quicker and the function generally better.
Ease of Revision: Because hip resurfacing does not damage the thigh bone, when they fail they can be more easily converted to a total hip replacement. This is important in young patients who wear out total hip replacements, because it saves this procedure as a later option when they are older.
What are the Risks of Hip Resurfacing Surgery?
There are risks with any surgical procedure. Hip Resurfacing Surgery being a relative new procedure, there is long term use data available. Hip Resurfacing surgery requires a well trained orthopaedic surgery.The person considering Hip Resurfacing surgery should tell the orthopaedic surgeon about any additional medical conditions that might complicate the surgery. The patient's regular doctor should be told of the proposed surgery. Before the operation, the patient should discuss with the anesthetists the type of anaesthetic and possible risks involved.
Is Hip Resurfacing Permanent?
Being a relative new procedure, there is long term use data available. Hip Resurfacing surgery requires a well trained orthopaedic surgery.
Materials and surgical techniques are improving rapidly because of the efforts of orthopaedic surgeons working with engineers and other scientists.
How long does a Hip Resurfacing Operation take?
Hip Resurfacing surgery is approximately 2 hours of set up and operating time. There is approximately 1 hour in the recovery room after surgery. Hip resurfacing surgery requires the removal of the diseased bone only.
How long will my leg continue to swell and hurt after hip surgery?
The pain usually decreases rapidly during the first few weeks, but the hip continues to improve for 12 months or even longer. The swelling is due to alterations in fluid return up the limb and will gradually diminish but may take many months. Mobilisation helps, as does elevation when not exercising.
How much exercise should I do and how can I tell if I have done too much?
Mild and moderate exercise is beneficial, but over-exercise is painful. Be guided by the hip symptoms. Generally the more active you are, the better, but within your tolerance.
When should I drive after hip surgery?
Driving is an individual matter. Some people regain their co-ordination and reflexes quickly and others take longer. Following hip surgery, you should avoid driving for at least 2-3 weeks, depending on your progress.
When should I go up and down stairs after hip surgery?
During the first days after surgery, you should learn to walk stairs with a physiotherapist at the hospital. The pace at which you regain agility on stairs depends on individual traits.
What kind of shoes should I wear after hip surgery?
High heels should be avoided for the first few months. Otherwise, there are no rules regarding shoes.
Should I use a heating pad or ice packs after hip surgery?
Both ice and heat can be used to help relieve pain, but both can be harmful if left on too long. Never sleep with a heating pad on your hip. It can damage the skin and even cause a severe burn. Ice can be used several times a day. 20 minutes on, 20 minutes off, is the usual regime.
For how long should I continue taking my medications after hip surgery?
Blood thinning medications (Aspirin, Cartia) should be taken for 1 month. All pain medications may be taken as directed for pain. We suggest you use these pain medications regularly for the first 10 days after surgery to prevent pain, after this they can be used just as necessary. If you have any questions about your medications, please ask.
Is it normal for the hip to click?
It is common to have clicking of the artificial joint. It is caused by the movement of the hard joint surfaces or tendons moving across them. As your hip recovers and strengthens it tends to go away.
Why do I have trouble sleeping at night after hip surgery?
Sleeping trouble is the most common question. You need patience. Surgical healing takes approximately 6-8 weeks. Therefore, you may be slightly uncomfortable for this time. When you sleep, your own natural body produced pain killers (endorphins) reduced so the leg and hip can ache. Taking prescribed medication at night (Paracetamol, Tramadol and Gabapentin) will help and heat packs can also help. Also getting out of bed and moving the joint sometimes helps. Keep active during the day and avoid napping during the day as this makes night sleep more difficult. Normal sleep will return as the hip heals. This can take 6 -12 weeks.
When can I have a Dental Check Up if I have a Hip Resurfacing?
It is important not to have any infections at the time of surgery, including teeth problems, bladder or skin infections. We suggest that you have a dental check up within 6 months prior to surgery as it is important not to have any major dental work for 6 months after the surgery. Please let me know if you have any infections prior to surgery.
Why should a patient choose Joint Replacement Surgery Hospital India?
Joint Replacement Surgery Hospital India offers highest quality bone and joint health care with attentiveness, care and compassion to meet the needs of the patients and their loved ones. The medical team includes board-certified orthopedic surgeons who are familiar with all the aspects of the musculoskeletal system. Our hospital uses the most advanced technologies available for the orthopaedic procedures and has a lower complication rate.
Tags
Low Cost Hip Resurfacing Surgery in India, Best Hospital for Hip Resurfacing Surgery India, Cost Benefits of Birmingham Hip in India, Lowest Price for Birmingham Hip in India, Birmingham Hip Cost in India, Top Surgeons Hip Resurfacing Surgery in India, Low Cost Birmingham Hip Surgery, Affordable Hip Resurfacing Surgery In India, Best Hip Resurfacing Hospital India, Birmingham Hip In India, Top Surgeons For Hip Resurfacing Surgery, The Most Recommended List Of Surgeons For Hip Resurfacing (Birmingham Hip) Surgery In India, Best Orthopedic Surgeon For Hip Resurfacing (Birmingham Hip) Surgery In India, Top Hospitals Specialized At Hip Resurfacing (Birmingham Hip) Surgery In India, Hip Resurfacing surgery in india experience