Why You Opt Wrist Fusion in India

Why You Opt Wrist Fusion in India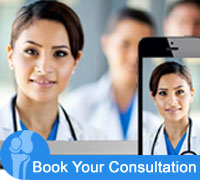 Planning your medical trip to India is a very simple process with Joint Replacement Surgery Hospital India
You just need to fill in our enquiry form and one of our executives will contact you soon.
+91-9860432255  Call us at the given contact number for any assistance.
Complete information regarding surgery is provided on our website.
Click to Here Fill up our Enquiry Form
What is Wrist Fusion?
The arthritis of the wrists has many causes and there are many ways of treating the pain. These treatments can be successful, at least for a while. In the long run, the entire wrist can become so painful that the non surgical treatments do not work any more, and then Wrist fusion in India is the only option left. It may be also necessary when severe trauma to the wrist is witnessed.
How do I know if I am a good candidate for Wrist fusion Procedure?
You are a candidate for a wrist fusion procedure if:
If the pain in the wrists has reached to such a point that it is affecting the quality of life
The arthritis is beyond manageable levels.
Check out the Patient Testimonial, where the patient shares about their success stories from treatments through Joint Replacement Surgery Hospital India.
Hello, my name is Chris Sesay from Nigeria. I got my wrist fusion surgery in India with the assistance of your medical tourism company. My wrist was already damaged before being diagnosed with ruptured tendon and after visiting my doctor for a checkup, he suggested me for wrist fusion. Since I didn't know anything about this surgery, I decided to learn more about it. While searching online, I came across a medical tourism company in India and contacted them for a free consultation. They responded back immediately and explained me about their process. I was impressed and decided to visit India. At the hospital, I met my surgeon who was a kind person and cleared my doubts and worries. My surgery went well. The hospital staff and nurses took care of all my needs. I am overwhelmed with their hospitality and professionalism. I want to thank the medical tourism company for helping me get my surgery in India at a reasonable price.
Wrist fusion Procedure & Recovery & Effectiveness
The surgeons fuse the wrist in several ways. In most of the cases a bone graft from the pelvis is made. The surgeons tend to take a small amount of bone from the end of the radius bone. In such a case you are bound to have incisions, one on the back of the wrist and another on the side of the hip. In some cases the surgeon may also fuse the bones without a graft.
The course of surgery can last for 90 minutes and it can be done by general anesthesia, which puts you to sleep during the course of surgery. In some cases, surgery is done with the help of local anesthesia, which numbs the wrist and the hand. Sometimes the bone does not fuse as per plan.
Why Opting Wrist fusion is necessary?
Many of the small joints in the wrist become arthritic. When such a scenario occurs, the wrist joint can become painful. Affordable Wrist fusion in India eliminates pain where all the bones are grown together into one solid bone. When the bone ends no longer rub together the pain is a thing of the past. Wrist fusion in India reviews of patients indicates that surgery may also be needed to align the wrist after a severe hand injury.
The wrist fusion is somewhat different from the fusion of other joints. Most of the joints are made up of 2 bones whereas in the case of wrist fusion it involves getting 12 to 13 bones together. It is basically a trade off, as you will loose some motion, but you are bound to have a pain free wrist.
The removable splint replaces the cast after six to eight weeks. The surgeon may ask you to undertake strengthening exercises and they are designed to get your hand and wrist in the perfect working condition.
Why to choose an Indian Hospital for your Wrist fusion?
The hospitals in India are setting up new standards in the medical domain. Low cost Wrist fusion in India ensures that you can get the best of surgical facilities at the most competitive rates. Even the remote cities of the country have hospitals, which can be compared to the best in the business.
Wrist fusion Cost in India
Affordable Wrist fusion in India means that you can get the surgery done within your budget. Since the cost of surgery is on the higher side, you are bound to gain attractive discounts if you undertake the surgery in a place like India.
If you are really seeking Wrist Fusion Surgery, kindly fill up the form for a free consultation with our surgeons. You will be provided with thorough analysis and suggestions regarding the Wrist Fusion Surgery you are seeking.
Click to Here Fill up our Enquiry Form
FAQ's
Why should a patient choose Joint Replacement Surgery Hospital India?
Joint Replacement Surgery Hospital India offers highest quality bone and joint health care with attentiveness, care and compassion to meet the needs of the patients and their loved ones. The medical team includes board-certified orthopedic surgeons who are familiar with all the aspects of the musculoskeletal system. Our hospital uses the most advanced technologies available for the orthopaedic procedures and has a lower complication rate.
What is a Wrist Fusion?
A wrist fusion can be a very effective operation for controlling pain in an arthritic wrist. Arthritis can arise as a consequence of a number of conditions, including trauma, generalised wear and tear arthritis, inflammatory arthritis, such as those caused by rheumatoid arthritis or psoriasis.
What is Arthritis?
Arthritis is a term that is defined as inflammation of a joint and used to describe over 100 different conditions that can affect the human body. Arthritis affects millions of Americans each year with symptoms including pain, stiffness, swelling, and loss of motion in affected joints.
Why does my wrist hurt?
The bones in a joint are covered with a tough, lubricating tissue called cartilage to help provide smooth, pain-free motion to the joint. As the layer of cartilage wears away, bone begins to rub against bone, causing the irritation, swelling, stiffness, and discomfort commonly associated with arthritis.
Why does it occur?
Arthritis can occur in a wrist as a consequence of a fracture that may have gone into the joint and healed with a step, causing localised wear and tear. Arthritis can occur as a generalised wear and tear process, with increasing age. Arthritis can occur as a consequence of inflammatory joint disease such as rheumatoid arthritis or psoriatic arthritis.
What are the Symptoms of Arthritis?
Patients often complain of pain and a decreased range of movement in the wrist. Painful actions include lifting and bending the wrist. These can be quite painful. Restricted range of movements can affect patients, with inability to perform common day-to-day tasks.
What does the Clinical examination include?
Generally speaking the arthritic wrist is swollen and has a restricted range of movement.
What are the Operative treatments for wrist arthritis?
There are two main types of fixation for wrist fusions. The first is a contoured plate that is held across the back of the wrist joint, with screws into the bone to secure fixation. The surgeon will carefully remove the remaining articular cartilage from the wrist joint to allow the bone to completely solidify underneath the plate. The second type of fixation is a pin that is passed across the wrist joint (usually down through the middle knuckle joint). This second type of fixation is often performed for patients with rheumatoid arthritis.
What to expect with the Post-operative rehabilitation?
If a plate fixation is used and the fixation is solid often no post-operative immobilisation is required, and patients are advised to move their fingers as soon as possible. Swelling is common after such a surgery and it is highly advisable to elevate the hand for the first few weeks after surgery. If a pin fixation has been used, then often this is supplemented with plaster of Paris for four to six weeks until the underlying bones have solidly united.
When Can I Return to activities of daily living?
These, generally speaking, can be well tolerated with a plate fixation within the first two to three weeks. Heavy loading activities should be avoided until the bone has completely solidified.
Can I choose my own hotels according to my budget?
You can most definitely choose hotels as per your convenience to you and your budget.
Can I speak with the doctor before I come to India for treatment?
You can talk to the doctor and satisfy all your medical queries. You can also send us your queries for answers from the top doctors.
How will I get an Indian Medical Visa?
To know about the procedure of getting an Indian Medical Visa, please go to our website where you will find all the details regarding the initial procedure. You can also send us a query regarding the same.