Why You Opt Wrist Joint Replacement In India?

Why You Opt Wrist Joint Replacement In India?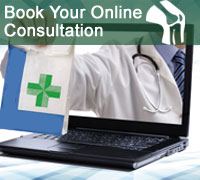 Planning your medical trip to India is a very simple process with Joint Replacement Surgery Hospital India
You just need to fill in our enquiry form and one of our executives will contact you soon.
+91-9860432255  Call us at the given contact number for any assistance.
Complete information regarding surgery is provided on our website.
Click to Here Fill up our Enquiry Form
Wrist joint replacement Overview
Joint replacement surgery in the wrists is less common when you compare it to the knees or the hips. It can be a viable option, if one has painful arthritis that does not respond to non-surgical treatments. In Wrist joint replacement in India the damaged portions of the wrist bones are removed and replaced with artificial components referred to as prosthesis.
How do I know if I am a good candidate for Wrist joint replacement Procedure?
You are a good candidate for wrist joint replacement surgery if:
If you experience arthritis in the hand and for someone who is experiencing rheumatoid arthritis
If you experience a considerable amount of pain in your fingers
Check out the Patient Testimonial, where the patient shares about their success stories from treatments through Joint Replacement Surgery Hospital India.
Hello, I am Ken Ercinbeck from Kazakhstan.  I got my wrist joint replacement at a cost effective price with the help of Joint Replacement Surgery Hospital India. The doctor at my native place recommended for the replacement, but the surgery cost was too expensive. While searching for a low cost surgery, I came across your website and contacted for a free consultation. I also talked with the surgeon over the phone before giving my confirmation for the surgery in India. The doctor and his staff were very warm and friendly. He explained me everything in plain terms so that I clearly understand the issues I was facing with respect to my health. I must say the surgeon was an excellent person and the nurses were caring. The hospital was  state of the art and offered world class services. I would definitely recommend you to anyone searching for affordable treatments and surgery in India.
Wrist joint replacement Procedure & Recovery & Effectiveness
Wrist joint replacement in India reviews of patients indicate that implant is a common procedure undertaken during the course of surgery. Two components are used which are on one side of the joint and they are made of metal. One of them is inserted into the radius of the forearm. This procedure can be undertaken as an outpatient procedure and can be combined with other procedures to reduce any form of deformities in the joints or the fingers.
The cast will be required to be worn after several weeks of the surgery. When it is removed a protective splint will be needed for the next 6 to 8 weeks. Though pain relief is eminent, exercises gradually needs to be done to improve movement. Free Consultation Wrist joint replacement in India ensures that a wrist joint replacement surgery can last for 10 to 15 years. As with all forms of surgeries a long term back up plan is necessary.
Why Opting Wrist joint replacement is necessary?
This surgery will help you to regain the lost movements of the wrist. It may also improve your ability to perform your daily activities.  This is more prominent when it affects the elbow and the shoulders. In certain cases fusing the bones together of the wrist will reduce or eliminate the pain and improve the grip strength. If the bones are fused together the wrist will not bend.
Why to choose an Indian Hospital for your Wrist joint replacement?
Medical tourism has scaled new heights in the economy of the country. A lot has got to do with Low cost Wrist joint replacement in India. Before we proceed further, one needs to understand on what is medical tourism. It is a concept where one travels to foreign countries to obtain medical or surgical treatment. The medical standards in India are at par with the advanced countries of the world. This is due to the low cost of operating and low conversion rates in the country.
Wrist joint replacement Cost in India
Affordable Wrist joint replacement in India provides a considerable amount of savings when you get it done in this part of the world. In some of the countries, since this form of surgery falls into the elective category, they are not covered by the insurance companies and the expenses shoot up. In India you can get it done at a fraction of a cost with the best of facilities and that too at an economical price.
If you are really seeking Wrist Joint Replacement, kindly fill up the form for a free consultation with our surgeons. You will be provided with thorough analysis and suggestions regarding the Wrist Joint Replacement you are seeking.
FAQ's
Why should a patient choose Joint Replacement Surgery Hospital India?
Joint Replacement Surgery Hospital India offers highest quality bone and joint health care with attentiveness, care and compassion to meet the needs of the patients and their loved ones. The medical team includes board-certified orthopedic surgeons who are familiar with all the aspects of the musculoskeletal system. Our hospital uses the most advanced technologies available for the orthopaedic procedures and has a lower complication rate.
Why does my wrist hurt?
The bones in a joint are covered with a tough, lubricating tissue called cartilage to help provide smooth, pain-free motion to the joint. As the layer of cartilage wears away, bone begins to rub against bone, causing the irritation, swelling, stiffness, and discomfort commonly associated with arthritis.
What is a wrist replacement?
Wrist replacement surgery, also called arthroplasty, removes the damaged bone and cartilage in a joint. The bone is resurfaced with implants made from metal alloy and polyethylene (plastic) to re-create the smooth gliding surface that were once intact. The purpose of the procedure is to restore movement and decrease or eliminate pain.
How long does the typical wrist implant last?
A total joint implant's longevity will vary from patient to patient. All implants have a limited life expectancy depending on an individual's age, weight, activity level, and medical condition. It is important to remember that an implant is a medical device that is subject to wear, which may lead to mechanical failure. Following all of your surgeon's recommendations after surgery may enhance longevity, there is no guarantee that your particular implant will last for any specific length of time.
Do implants fail and can they be replaced?
Since implants are mechanical devices, they are subject to conditions that can lead to mechanical failure. The most common reason for implant failure in wrist replacements is implant loosening or implant wear that leads to loosening. Implant wear particles can react with the bone, causing thinning of the bone that can lead to implant loosening. In most cases, failed implants can be revised successfully to provide good results.
When should I have joint replacement surgery?
Your surgeon will evaluate your health history, perform a physical examination, and take x-rays to decide if you are a candidate for this surgery. You must then decide if your discomfort, pain or stiffness, and overall loss of quality of life justify undergoing surgery. Generally, there is no harm in waiting to have surgery if conservative, non-surgical treatments are effective.
Is age a consideration for joint replacement?
Age is not a problem if you are in reasonably good health and have the desire to continue living a productive, active life. You may ask to see your personal physician for an opinion about your general health and readiness for surgery.
What can I expect from the surgical procedure?
Operation- approximately 1 1/2 to 2 hours
Outpatient surgery
Rehabilitation-usually 3 to 4 months of regular exercise at home. This will vary with each patient and with each surgeon.
Where will my incision be?
The incision is usually made of the on the back of the wrist to gain access to the joint.
Will I notice anything different about my new wrist?
Yes, you may have some numbness on the outside of the scar. The area around the scar may feel warm. You may also notice some clicking when you move your wrist as a result of the artificial surfaces coming together
Are there risks from surgery?
While uncommon, complications can occur during and after surgery. Some complications include infection, blood clots, implant breakage, malalignment, and premature wear. Although implant surgery is extremely successful in most cases, some patients still experience stiffness and pain. No implant will last forever and factors such as the patient's post-surgical activities and weight can affect longevity. Be sure to discuss these and other risks with your surgeon. There are many things that your surgeon may do to minimize the potential for complications. Your surgeon may have you see a medical physician before surgery to obtain tests. You may also need to have your dental work up to date and may be shown how to prepare your home to avoid falls.
How can I prepare for surgery?
Proper preparation and a great attitude are the best ways to accomplish a rapid recovery from joint replacement. With the help of a physical therapist, get yourself as physically fit as you can before surgery. Proper nutrition and optimal medical condition can help avoid complications. See your physician prior to surgery to ensure your blood pressure, heart, and lungs are in good shape. Be prepared to continue with your exercise program after surgery.
What type of rehabilitation can one expect following surgery?
Exercise is necessary for proper healing. Early movement is important to prevent the muscles in the wrist from becoming tight. The types of exercises you may perform are gentle, range of motion exercises designed to help restore motion to the muscles in the shoulder. As your rehabilitation continues, you may begin strengthening exercises that are designed to restore strength to your shoulder. A regular exercise program at home to promote strengthening and mobility will continue up to 12 months following surgery. It is important to follow your surgeon's prescribed recovery outline. Do not attempt exercises that are not prescribed by your surgeon, and do not attempt to alter your exercise schedule without contacting your surgeon.
What activity range can be expected after this surgical procedure?
Although wrist replacement is designed to restore motion and decrease pain, it does not return your wrist to "normal." Like any mechanical device, it can wear out with use. Activities like heavy lifting or manual labor can cause early wear and failure of the wrist implant. Many activities should not begin until the soft tissues around the wrist heal, which can take 3 to 6 weeks. All postoperative activities should be cleared with your surgeon.
How long until I can resume my regular activities after surgery?
Patients with total wrist replacement typically require several weeks before returning to any type of lifting or repetitive movement activities. Talk to your doctor before participating in an activity that may place excess stress or movement on your shoulder. Consult with your surgeon or therapist for advice on acceptable activities.
When will I be able to return to work?
Returning to work depends on your type of work and can be as early as 2 to 6 weeks for sedentary jobs. Returning to a job that requires significant use of the arm will usually take at least 3 months. Office workers often return in 2 to 3 weeks, while patients with more strenuous jobs may require more time away from work. The timing of your return to work depends considerably upon your commitment to recovery.
Are regular visits with your surgeon required after surgery?
The surgeon will set a follow-up schedule for the first year after surgery to evaluate your progress. Usually these follow-ups occur three, six and nine months after the surgery. Annual visits may be required thereafter. Complications can occur with implants, so seeing the surgeon when you notice a change in symptoms can assist in evaluating any changes that may occur with your new joint.
Can I choose my own hotels according to my budget?
You can most definitely choose hotels as per your convenience to you and your budget.
Can I speak with the doctor before I come to India for treatment?
You can talk to the doctor and satisfy all your medical queries. You can also send us your queries for answers from the top doctors.
How will I get an Indian Medical Visa?
To know about the procedure of getting an Indian Medical Visa, please go to our website where you will find all the details regarding the initial procedure. You can also send us a query regarding the same.
I can only speak my native language?
Many hospitals in India have language translators to help you communicate better and effortlessly with the doctors and medical staff.