Discectomy in India: Things to Consider Going for the Surgery

Discectomy in India: Things to Consider Going for the Surgery
Discectomy Overview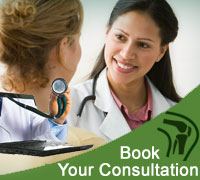 Planning your medical trip to India is a very simple process with Joint Replacement Surgery Hospital India
You just need to fill in our enquiry form and one of our executives will contact you soon.
+91-9860432255  Call us at the given contact number for any assistance.
Complete information regarding surgery is provided on our website.
Click to Here Fill up our Enquiry Form
Discectomy Overview
Discectomy is a kind of surgery that one undergoes to facilitate the removal of a herniated disc that presses upon the root of the nerve or the spinal cord. This operation requires the innermost part of the intervertebral disc i.e. the disc that is responsible for the pain in the spinal cord. Typically, this surgery is undertaken as a microdiscectomy, a procedure that involves the use of a microscope to obtain a better and a clearer view of the pressed disc and nerves.The use of this instrument allows the surgeon to get a better view of the tissue that needs to be cut, thereby reducing the amount of damage to concerned issue.
How do I know if I am a good candidate for Discectomy Procedure?
For discectomy to be performed, you must be a suitable candidate. To qualify this condition of a suitable candidate, it is important that any of the following are fulfilled:
 Firstly, symptoms of herniated discs include regular and considerable pain in your leg or foot that is unaffected by intake of usual medication. A significant number of patients also complain of weakness in the legs and unusual feeling in the genital area that along with inability to control bowel and bladder movements. This condition is also commonly referred to as the cauda equine syndrome.
Secondly and much more importantly, your tests such as the MRI, CT scan, mylogram, etc. must show that your disc is herniated.
It is also important to note that not all candidates with herniated discs are to undergo this surgery. Most of the patients suffering from this are relieved through non-surgical treatments and ways. These are inclusive of rest, physical therapy, anti-inflammatory medications and epidural injections.
If the candidate is not affected by the use of these medicines, the need of discectomy arises and is felt. It is only 10% of the entire population with herniated discs who require surgery for its removal.
Patient Testimonial
Hello, my name is John Chukwu from Nigeria. I had fallen in December 2010 and took a month to see my doctor. It took me 3 more months when my doctor recommended me to undergo discectomy. Since I didn't know much about it, I went online searching for more information and came across your website. I sent my query and they called me immediately with my answers. The executive sounded nice and friendly. I was convinced with the guidance to get my surgery in India. I got my appointment fixed with them. I flew down to India and an official came down to receive me. He took me to the hospital where my surgeon explained me very well about the surgery. The hospital staff were very caring and amazing. My surgery went well. I extend my warm appreciation to the your healthcare group for extending your assistance to get my surgery done in India at such affordable price. Your support throughout the entire journey has been amazing. Thank You! God Bless.
Discectomy Procedure & Recovery:
This surgery is performed either by a neurosurgeon or an orthopaedic surgeon until or unless your case is too complex; in which case, it will be performed by specialized spine surgeons.
The process of discectomy requires the patient to be unconscious and stay in the hospital for a period of at least one day. Prior to the surgery, the patient is given general anaesthesia and is made to lie with face down or kneel.
The operation begins with the surgeon making an incision (approximately one inch long) with the help of a microscope. The affected area/muscle is then removed from the lamina i.e. the bone.
In some rare cases, the bones or ligaments of the patient are required to be removed to enable the surgeon to get a better and clearer view of the nerve tissue that needs to be removed. In such cases, depending upon the quantum of bone that is being removed, it is known as laminectomy or laminotomy depending on how much bone is removed.
After successful removal of the affected part, the incision is closed with the help of sutures.
Subsequent to the surgery, you'll require some time to sit up and won't be able to sit for a long period of time. The key is to take regular walks, maintain good posture and resume your daily chores as early as possible.
How effective is Discectomy?
Fortunately, 80-90% of results in these cases are positive. This is one of the most effective methods and risk factors are fairly less. The most noteworthy advantage of this surgery is that you can resume your daily activities right after the discectomy.
Why Opting Discectomy is necessary?
This surgery provides immediate relief to the patients and they don't have to go through the pain for months at a stretch; moreover, in cases of loss of bowel control, it becomes an absolute necessity.The medicines on the other hand take at least a minimum of four to six weeks to reduce the pain. If you need any more advice, in this respect, you may also avail free consultation facilities in India from various hospitals.
Why to choose Indian Hospital for your Discectomy?
Discectomy in India is one of the very safe options available to you. Indian doctors and surgeons are known for their expertise in conducting their operations. Not only are you assured great service and after-care experience, but the cost too is affordable and reasonably low. Multiple hospitals and nursing homes also offer the facility of providing free consultation for discectomy patients in India. Well, it's not only us who hold this opinion but the reviews of the patients of discectomy in India talk for themselves.
Discectomy Cost in India
The average cost of undergoing this surgery depends on the extent your tissue has been damaged and the complexity of your case. The exact number obviously varies from case to case; however, if your case is simple and a usual one, it will be a bare minimum that you can afford.Under any circumstances, cost will be lowest only in India.
If you are really seeking for Discectomy, kindly fill up the form for a free consultation with our surgeons. You will be provided with thorough analysis and suggestions regarding the Discectomy you are seeking for.
Click to Here Fill up our Enquiry Form
 Faq
How long will I be in the hospital?
You will need to be in the hospital 1-2 days.
When will my stitches be removed?
Absorbable suture are mainly used. If staples are used they will be removed at your 2 week post operative appointment.
When will I return to see my physician?
You will return to see the physician 2 weeks after your surgery.
Will I have a brace?
You will have a back corset brace for 6 weeks. It will need to be worn for sitting, standing and walking.
How long will I need to leave my dressing on?
You will have a dressing until your first post operative visit (2 weeks). Your dressing will need to be changed daily using dry gauze. No ointments.
When will I be able to shower?
You may shower after 48 hours but keep your incision dry. Make sure you change your dressing after you shower.
Will I need Physical Therapy or Occupational Therapy?
You will have Physical Therapy by Home Health and will graduate to outpatient therapy at 6 weeks.
Will I need to be on blood thinners?
You will not need to be on blood thinners.
Will I be able to drive after surgery?
You will not be able to drive while you are taking medication. You will be advised when you can start driving by your physician. When you do start driving we suggest you start with short trips. You will need to make sure you can apply the brakes and gas easily.
How long will I be out of work for?
Approximately 4-6 weeks. How long you will be out of work depends on the type of work you do.
Why should a patient choose Joint Replacement Surgery Hospital India?
Joint Replacement Surgery Hospital India offers highest quality bone and joint health care with attentiveness, care and compassion to meet the needs of the patients and their loved ones. The medical team includes board-certified orthopedic surgeons who are familiar with all the aspects of the musculoskeletal system. Our hospital uses the most advanced technologies available for the orthopaedic procedures and has a lower complication rate.