Welcome to Artemis Hospital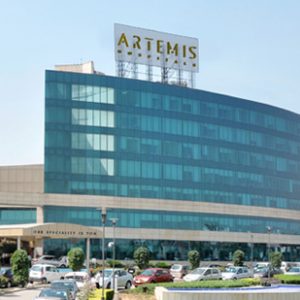 Artemis Hospital is a 380 bed, state of the art multispecialty hospital established in 2007. Artemis is a healthcare venture launched by the promoters of the Apollo Tyres Group. It is spread across 9 acres and located in Gurgaon, India. It is the first and only hospital to get JCI accreditation in Gurgaon in the year 2013 and the first hospital in Haryana to get NABH accreditation within three years of start up.
Artemis Hospital offers an in-depth expertise in the spectrum of the advanced surgical and medical interventions which are inclusive of the patients and outpatient services. With the advanced design, Artemis hospital has put the most modern technology in the hands of the renowned from across the country and abroad to new set of standards in healthcare. Our top notch services at an open centric, warn environment is clubbed with affordability and has made us one of the most revered hospitals in India. The medical practices and procedure performed at Artemis Hospital are research oriented and benchmarked against the best in the world.
Our Vision
"To create an integrated world class healthcare system, sustaining, protecting, fostering and restoring health through the best in medical practices and cutting edge technology developed through the in-depth research carried by the world's best scientific methods."
Our Mission
To excel in the delivery of specialized medical care supported by the comprehensive research and education
To deliver world class patient services
To develop, apply, evaluate and share the new technology
To be preferred choice of the world's leading medical professionals and scientific minds
To be an active partner in local community initiatives and contribute to the well-being and development
Our Core Values
The core values at Artemis Hospital are found in three pillars- Compassion, Service and Integrity:
Excellence through team work
Trust mutually
Care for customers
Ethical practices
Respect for associates
Always learning