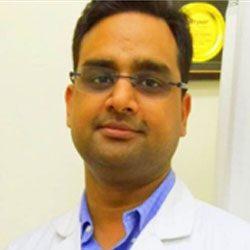 Orthopaedics
Contact Number: +91-9860432255
---
Designation: Consultant
Specialty: Orthopaedics
Location: Gurgaon
Nationality: Indian
Languages spoken: Hindi,English
Gender: Male
Artemis Hospital
Profile:
Qualifications
MBBS- Saurashtra University, Gujarat – MBBS
DNB (orthopaedics)- Bhabha atomic research center & Hospital, Mumbai.
MNAMS Orthopaedics,
DNB (Spine Fellowship)- Sir Ganga Ram Hospital, New Delhi
Medical School:
Super specialization:
Sir Ganga Ram Hospital, New Delhi- (DNB Spine Fellowship)
Christian medical collage, Vellore – (spinal deformity fellowship)
NIMHANS, BANGALORE (intradural and CV junction)
Brief Profile:
Dr. Tyagi is a renowned surgeon and ardent contributor in the field of Orthopedic & Spine Surgery. He has extensive training and experience in all spine related problems including spinal trauma, spinal infections, spinal tumour, spinal deformity & other adult degenerative conditions. He is well trained in both intradural as well as extradural pathologies of spine. He is doing all sorts of complex surgeries from cervical spine to sacrum by both anterior and/or posterior approach. He likes doing complex scoliosis surgeries and orthopedic trauma/fractures. He has a rich experience of working in institutes like Sir Ganga Ram Hospital, Apollo Hospital , primus hospital and Fortis hospital.
MEMBERSHIP:
Association of Spine Surgeons of India
indian Orthopaedic association
Uttar Pradesh Orthopaedic Association.
Delhi Orthopaedic Association
Delhi Spine society
Clinical Focus:
minimally invasive spine surgery
endoscopic spinal procedures
cranio-cervical junction problems.
Procedures:
Microscopic/endoscopic disectomies for radicular pains.
nucleoplasty/annuloplasty for disc Related back pains.
Radiofrequency nerve ablation for degenerative spine pain.
Minimally invasive spinal fracture fixation.
Mini incision spinal fusion procedures.
cervical/lumbar spinal nerve root block.
spinal deformity correction.
departments
: Joint and Replacement