Consult Dr Yash Gulati Joint
Replacement Surgeon Apollo Delhi
MBBS, MS (Orthopaedics), M.Ch (Orthopaedics)
CONSULTATION FORM
Dr Yash Gulati

E-mail & Appointment
Dr. Yash Gulati, Best Joint Replacement Surgeon, India
Book Immediate Appointment to Click Here
Number For Fast Track Query Reply
+91 - 9765025331
Dr. Yash Gulati is a Senior Orthopaedic Surgeon at Apollo Hospitals, Delhi who is internationally renowned for his tremendous work in joint replacement and spine surgery. Joint replacement surgeon at Apollo Delhi is the youngest orthopaedic surgeon to have been awarded Padma Shree by the President of India which is the second highest civilian award conferred by the country's President on citizens for exceptional service. An alumni of prestigious Maulana Azad Medical College, Delhi, Royal College of Surgeons, Ireland, and MCh from University of Liverpool, England, Dr. Gulati has worked for number of years in England and the Republic of Ireland. He completed his fellowships in different countries in the world before returning to India to join Apollo hospital right from its inception. The Orthopaedic surgeon in Delhi gas operated on former Prime Minister of India, many international cricketers, diplomats and large number of patients from various countries. Get in touch with us to consult Dr Yash Gulati Email Address.
The Orthopaedician in Delhi has done pioneering work in the field of facilitating treatment for patients from across the countries seeking joint replacement and spine surgery. Dr. Gulati has also provided medical cover for Cricket One Day International Matches and Test Matches for over the last 14 Years and the World Cup Hockey Tournament. Dr. Gulati is the Chairman, Orthopaedic Implants Committee Indian Bureau of Standards, and has Anchored a Medical Health Show Program on Doordarshan called "High Tech Surgery- Dr. Yash Gulati, Health Show" in 1999. He was also on Advisory Medical Committee of Common Wealth Games. Dr. Yash Gulati has been featured in Sunday Times, London and his surgery was shown in a half hour documentary on ITV. An exclusive feature on him was telecasted on the London Z Business TV in the category of Inspirational Personalities in program entitled "Big Idea" in January 2015. Book Appointment with best joint replacement surgeon at Apollo via Contact Number given on the website.
Education
MBBS from the University of Delhi, 1978
MS (Orthopaedics) from G B Pant Hospital / Moulana Azad Medical College, New Delhi, 1982
M.Ch (Orthopaedics) from the University of Liverpool, UK, 2002
Specializations
Joint replacement surgery
Orthopaedic surgery
Spine surgery
Sports medicine
Paediatric orthopaedic surgery
Association of Dr. Yash Gulati with Apollo Hospitals, Delhi
The Institutes of Orthopaedics at Apollo Hospitals, Delhi offers the latest in orthopaedic treatments and surgical techniques. Our team of highly experienced surgeons are supported by the most advanced state-of-the-art technology and the most advanced medical equipments to perform the surgical procedures including the most current arthroscopic and reconstructive techniques. We are one of the few centers having a dedicated paediatric orthopaedic units providing a whole range of paediatric orthopaedic treatments. Apollo Institutes of Orthopaedics have very senior and experience orthopaedic surgeons with adequate international experience and education and our institute has been ranked as one of the best institutes in the country. Our senior surgeons offer wide range & high-end orthopaedic treatment to the patients who are visiting from within & outside India. Apollo Institute of Orthopaedics has a very high success rate in all the procedures that it undertakes due to dedicated & well equipped Orthopaedic OT complex. Read Dr Yash Gulati Reviews to know about the best joint replacement surgeon in India.
Joint Replacement
Dr. Gulati, Joint replacement surgeon in India has been doing Primary & Revision Knee & Hip Replacement for the last 20 years. He has performed large number of surgeries with excellent results. Dr. Yash was invited to perform live demonstration of the Knee Replacement and Hip Replacement Surgery in the Golden Jubilee Conference of Indonesian Orthopaedic Association at Solo, Indonesia. Dr. Yash Gulati has has written numerous scientific papers in Indian and Foreign Journals. He has largest series of Total Hip Replacement for Sickle Cell Disease in India. He has been a teaching faculty for numerous orthopaedic conferences in India and abroad. He is a recognized teacher for Diplomat of National Board (DNB) Orthopaedics and has trained post graduates under his supervision. Being a Senior Consultant at Apollo Hospitals, Delhi for 17 years, he will now have additional responsibility of being Advisor Orthopaedics, Apollo Group of Hospitals all over India & Co-ordinator Orthopaedics, Apollo-Spectra Hospitals, Delhi, Kanpur and Jaipur. Dr. Yash Gulati conducts regular OPD & Surgery sessions at RAK Hospital, UAE, where he is a Visiting Senior Specialist. Contact us to fix your appointment with the joint replacement surgeon in India.
Spine Surgery
The Spine Surgeon in Delhi has super specialization in Microdiscectomy for Slip Disc, Minimally Invasive Spine Surgery, and correction of Spine Deformities such as Scoliosis, Spondylolisthesis, etc. Dr. Gulati was the first Indian to perform the Endoscopic Disc surgery for Slip Disc in India. He uses minimally invasive techniques when ever applicable for Spinal Canal Stenosis, Slip Disc and Spine Fusion. Dr. Yash is amongst handful of surgeons doing Minimally Invasive Trans Foraminal Inter Body Fusion ( MITLIF). Dr. Gulati has performed the live demonstration of Microdiscectomy on Annual Conference of Indian Orthopaedic Association held in Patna. He was awarded Best Paper Award on his work on Spinal Surgery in Annual Conference of Orthopaedics, held at New Delhi. Fill up the free consultation form to get appointment with the spine surgeon in Delhi.
Doctor Experience
HOD, Indraprastha Apollo Hospitals, New Delhi- Present
Head, Orthopedics Unit, Ram Manohar Lohia Hospital, New Delhi
Consultant, Orthopaedic Surgeon, St. James Hospital, Dublin, Ireland
Director & HOD Orthopaedics, BLK Super Specialty Hospital, New Delhi
Adjunct Professor, Indira Gandhi Open University
Patient Testimonial
55 year old, Mr. Geoffrey M. Samukonga, a Member of Parliament and Deputy Minister of Commerce, Trade and Industry, Zambia, reached out to Dr. Yash Gulati, Senior Surgeon at Apollo Hospital Delhi after he could not recover from 4 hip surgeries performed on him by a hospital at his native country. Dr. Gulati performed critical hip replacement surgery, which resulted in a huge success and helped him completely recover.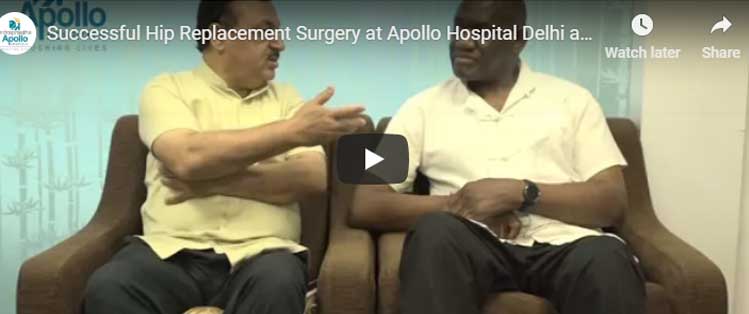 Memberships
Life Member, Indian Orthopaedic Association (IOA)
Indian Arthroplasty Association (IAA)
Life Member, Association of Spine Surgeon of India
Delhi Orthopaedic Association (DOA)
Indian Society for Hip & Knee Surgeons (ISHKS)
Indian Medical Association (IMA)
South Delhi Orthopaedic Society (SDOS)
Indian Federation Of Sports Medicine (IFSM)
Delhi Medical Association (DMA)
Delhi Medical Council (DMC)
E-mail & Appointment
Dr. Yash Gulati, Best Joint Replacement Surgeon, India
Book Immediate Appointment to Click Here
Number For Fast Track Query Reply
+91 - 9765025331
Video
Dr. Yash Gulati, the best joint replacement and spine surgeon at Apollo Hospitals, Delhi talks about his experience performing surgery on former Prime Minister of India and many other prominent personalities.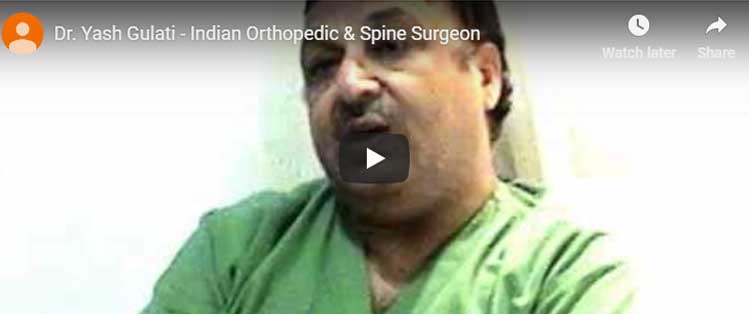 Awards and Achievements
Awarded Padma Shri by President of India.
Commendation from President, Indian Orthopaedic Association.
University for teaching Spinal Surgery to Teaching
Commendation by Delhi Orthopaedic Association.
'Chiktask Ratna Award' given by Akhil Bhartiya
Commendation Award by International President of Lions Club.
'Romesh Chander' Best Doctor Award for his Service to the Elderly
Awarded 'Distinguished Service Award' by President New Delhi IMA, New Delhi on Doctor's Day June
Honored by Indian Armed Force by being appointed as Honorary Consultant in recognition of his voluntary service to Armed Forces and Orthopaedic Surgeries for civilians in the far flung areas under the program "Sadbhavana" run by Armed Forces
Swantrata Lekhak Manch.
Commendation certificate from Royal College of Surgeons, Edinburgh, for Teaching.
Faculty in Orthopaedic & established Spine Surgery.
Commendation Certificate from Aligarh Muslim
Best Paper Award, Annual Orthopaedic Conference, Delhi.
Paper Presentations
Brodies Abscess of Femoral Neck simulating Osteoid Osteoma Acta ortho Belg 2007 October; 73 (5):648-52
Operative Treatment of Tuberculosis of Dorsal and Lumbar Spine DJO, 2005
Cortical Sclerosis with Central Nidus IJRI, 2005
Extraskeletal Osteochondroma of Thigh Acta ortho Belg 2005 February; 71 (1):115-8
Long Term follow up of Microdiscectomy for Disc Prolapse DJO, 2006
Multi Centre study on Prevention of Deep Vein Thrombosis by Lymphavision therapy IJO, 2004
Treatment of Giant Cell Tumor of Bone by Currettage and Acrylic cementation Journal of Bone & Joint Diseases, 1994 Vol 10:20-22
Thesis- Revision Arthroplasty of Hip, University of Liverpool, UK, 1988
Thesis- Management of Humeral Shaft Fractures in Adults, University of Delhi, India, 1981
Tags
Dr. Yash Gulati, Dr. Yash Gulati Senior Orthopaedic Surgeon at Apollo Hospitals Delhi, Joint replacement surgeon at Apollo Delhi, Top Orthopaedic surgeon in Delhi, Dr. Yash Gulati Orthopaedician in Delhi, Best Joint replacement surgeon in India, Spine Surgeon in Delhi, Dr Yash Gulati Orthopaedic surgeon Delhi Reviews, Consult Dr Yash Gulati Email Address, Dr. Yash Gulati Orthopaedic Surgeon Contact Number