E-mail & appointment
E-mail id of Dr. Kaushal Malhan , Total Hip Replacement Surgeon in Fortis Mumbai India
dr.kaushalmalhan@jointsurgeryhospital.com
Number for appointment with Dr. Kaushal Malhan :
+91-9860432255
Dr. Kaushal Malhan Hip Surgeon is a pioneer in the field of minimally invasive knee and hip surgery. He has established the regional joint replacement centre in western India, at Fortis. His "Tisue Preserving" technique of total knee replacement (TPTKR) has found a place in the 'Limca book of records' for quicker postoperative recovery. Dr. Malhan has been in the forefront in the field of high bending customized total knee replacement and partial knee resurfacing surgery. He has been credited with techniques that changed the management of hip reconstructive surgery. Dr. Kaushal Malhan is the only surgeon to offer the direct anterior approach for total hip replacement. Dr. Malhan, a surgeon of the international reputation has been invited to give lectures and demonstrate the surgeries in many parts of the world.
Dr. Malhan Total Hip Replacement Surgeon in India has completed the British orthopaedic training programme in the Oswestry-Stoke rotation in West Midlands and was awarded the FRCS (Orth). Besides the extensive training in primary and revision joint replacement surgery, Dr. Malhan has also worked in the National institute of Sports Surgery in the UK and units that are dedicated to shoulder and knee arthroscopic surgery.
He is well-versed with the advanced techniques in cartilage and ligament reconstruction. He completed his post FRCS (Orth) fellowship in advanced joint surgery at the Freeman hospital in the UK. Presently, Dr. Kaushal Malhan is a consultant surgeon at the Fortis Bone and Joint hospital in Mumbai and has specialized in hip, knee and shoulder surgery. The bulk of his practice in India involves the joint reconstruction and sports surgery that attracts patients from all over India and overseas.
Dr. Kaushal Malhan has been in the forefront in the field of high bending total knee replacement, partial knee resurfacing and minimally invasive replacement surgery. He has pioneered a gender specific minimally invasive knee replacement for women in Mumbai. He also performs the first minimally invasive mobile bearing unicompartmental knee resurfacing in India.
He has popularized the hip resurfacing surgery with the first ever live surgical demonstration of the Birmingham hip resurfacing performed in Mumbai. This was done in an international conference on resurfacing at the Fortis Hospital, Bombay. The conference was presided over by Dr. Dereck McMinn, the designer of the Birmingham Hip Resurfacing.
Dr. Malhan has performed the highest number of Birmingham hip resurfacing in Mumbai. He is also the only surgeon to have publicly demonstrated his skills in Mumbai, time and again. Recently, two of his live surgical demonstrations were telecast to multiple centers within India. He is also actively involved in the training overseas surgeons in hip resurfacing and recently did a live demonstration for surgeons from Malaysia, Singapore, Thailand and Vietnam. Dr. Malhan was invited to Malalaysia by the MOA to perform live joint replacement and resurfacing surgeries. He also had the privilege to demonstrate his skills in one of the largest teaching hospitals in the country.
Recently, Dr. Malhan was selected from amongst India's Top joint replacement surgeon and Best Resurfacing surgeons to lecture on hip resurfacing for an audience of North American doctors at a symposium organized by the Confederation of Indian Industry (CII).
Specialization:
Birmingham Hip Replacement
Knee Surgery
Total Joint Replacement
Sports Injures
Cartilage Reconstruction
Knee Surgery
Sports Surgery
Hip Resurfacing Surgery
Ligament Reconstruction
Hip Surgery
Shoulder Surgery
Education:
MS in orthopaedics in one of Asia 's premier institutions from King Edward Memorial Hospital, Mumbai.
Completed the Indian and British orthopaedic training programs.
FRCS (Trauma and Orthopaedics) - U.K, FRCS (General Surgery) - U.K.
Diploma in Sports medicine - Great Britain and Ireland.
MS (Orthopaedics) - Mumbai University.
Knee and Hip fellowship - hip and knee resurfacing, joint replacement and knee ligament reconstruction - Freeman Hospital, U.K.
Achievements:
12 Publications- 9 in International Journals like Knee, Arthroscopy & Spine.
2 Dissertations.
21 Presentations- 18 in international meetings.
15 International courses and symposia.
Demonstrator on faculty in India and abroad - 7.
Total Hip Replacement Surgeon in Fortis, Mumbai, India.
Guest lectures at meetings - 50 (including the lectures to prestigious medical bodies like the IMA and GPA).
Convenes the Fortis Mumbai trauma course views and articles that have been published in reputed newspapers and magazines like the Express, Times, Midday, Free Press Journal, etc.
Dr. Malhan is a pioneered gender specific minimally invasive knee replacement for women in Mumbai. He has also performed the first minimally invasive mobile bearing unicompartmental knee resurfacing in India.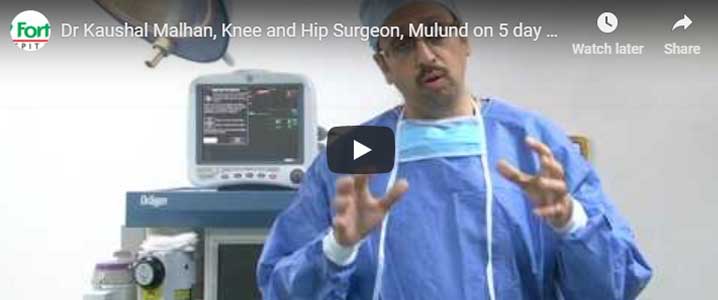 Video
knee replacement testimony of Bridget Onah from Atlanta, GA in the US. She shares her knee surgery India medical tourism experience. Surgery done by Dr. Kaushal Malhan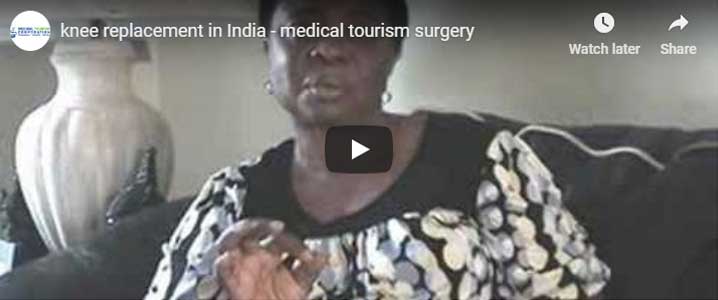 E-mail & appointment
E-mail id of Dr. Kaushal Malhan, Total Hip Replacement Surgeon in Fortis Mumbai India
dr.kaushalmalhan@jointsurgeryhospital.com
Number for appointment with Dr. Kaushal Malhan :
+91-9860432255
Google Map Location
Consulting Address of Dr Kaushal Malhan : Fortis Hospital
Mulund Goregaon Link Rd, Industrial Area, Mulund West, Mumbai, Maharashtra 400078
GEO:
19.162078
,
72.941988
OUR GROUP BRANDS




Tags